Beautiful, Lasting Results
From painting and staining to plaster repair, light carpentry, and surface restoration, we provide a full complement of interior and exterior painting services to homeowners throughout the Greater Boston area.
We appreciate that homeowners take a leap of faith when hiring a painting contractor – we believe having painters work on your home can and should be a positive experience. You can anticipate clear communication from our office and field staff; a friendly, efficient and non-smoking crew; a work area kept tidy and clean; and the peace of mind that comes from choosing established and reputable painters in the Boston area.
"This is our promise, our commitment – to deliver an extraordinary experience when we paint your home– every project, every time."
Nigel Costolloe, Owner
Professional Painting Contractors In the Greater Boston Area Since 1994
For 25 years, customers in the Greater Boston, Weston, Wellesley, and Brookline areas and in fact throughout New England have relied on our experienced and skilled professionals for all of their interior and exterior painting projects.
Our goal with every project is twofold: to provide exceptional service, and an experience that will inspire you to invite us back. We employ a trained and friendly crew of men and women who are communicative, neat, respectful, and capable. They come to us with years of experience, then undergo extensive retraining in production techniques, product knowledge, and job safety. Consequently, the majority of our projects come as repeat business or from past customer referrals. This is why we are in business – to make a difference.
The health of our painters, you and your family is our priority. We train and adhere to all OSHA safety standards and are EPA RRP certified to work safely wherever lead paint is present. We use premium zero or low-VOC paints because these products are simply healthier for all concerned. We also use negative air machines to contain fumes and odors, we use only HEPA filtered sanders and vacuums to eliminate airborne dust, and employ tack mats and containment sheeting to isolate work areas and so prevent the spread of dust or debris.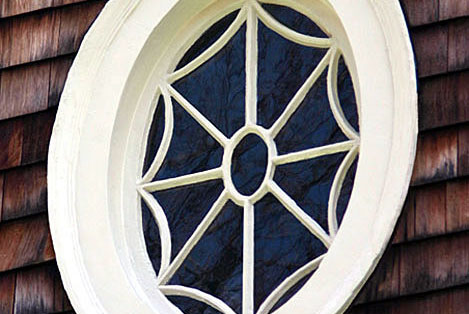 Historic Home Restoration
We don't just paint surfaces; we care for and restore them. From lathe, horsehair plaster and calcimine ceilings, to shiplap clapboards and scalloped shingles, the interior and exterior surfaces of historic homes have a distinct composition and coating history. Our understanding of New England's rich architectural history, of historic building materials and of paint failure informs the preparation we carry out along with the type of appropriate materials we use to repair and restore older homes. From plaster buttons to paint stripping and to rotted wood repair using  epoxy consolidants and fillers, our painters  are trained problem solvers.
Catchlight is a proud recipient of the 2016 PDCA PIPP Award for Residential Exterior Restoration.
Committed to Community Service
Our company and crew give back annually to the communities we serve. We ask our clients to recommend events, charities, fundraisers and causes that could benefit from complimentary painting services, a Painter-For-A-Day donation or direct funding. Catchlight was featured as a proud sponsor of Historic Newton in their fall 2016 Corporate Member Spotlight. Please visit our Community page to learn more about these sponsorships and initiatives.
Communication was Excellent
"I think the quality of the work & the painter's professionalism really made me glad I continued my relationship with Catchlight. Communication was excellent. I liked the updates we received about what was done each day and what they would attempt the next day."
Sky O., Weston
Attention to Detail
"The end product is amazing! Eraldo and Eduardo's attention to detail definitely exceeded my expectations. Both did a fine job from beginning to end, including immaculate clean-up. Eduardo was here every day exactly when he said he would be. He worked hard, was diligent and pleasant. I will certainly call Catchlight again for painting and will recommend you as well."
Alida C.K., Dover
Above and Beyond
"Carlos and Marcos went "above and beyond". . . how could you improve your service – are you kidding?"
Nina N., Brookline
Outstanding Quality of Workmanship
"I just want to let you know what a wonderful job you and your crew did on this house. I think it looks beautiful. Ther service you provided was fantastic and the quality of the workmanship was outstanding. . ."
Stephen B., Brookline