Epoxy Floor Coating & Painting Services in Greater Boston
Epoxy Flooring Services at Catchlight Painting
Regardless of whether you use a garage for your car, or simply use it for storage, applying a durable and practical epoxy floor coating to unfinished concrete will add interest, color and protection, transforming a garage from strictly a utility space to one that looks more professional as it better protected from wear and tear.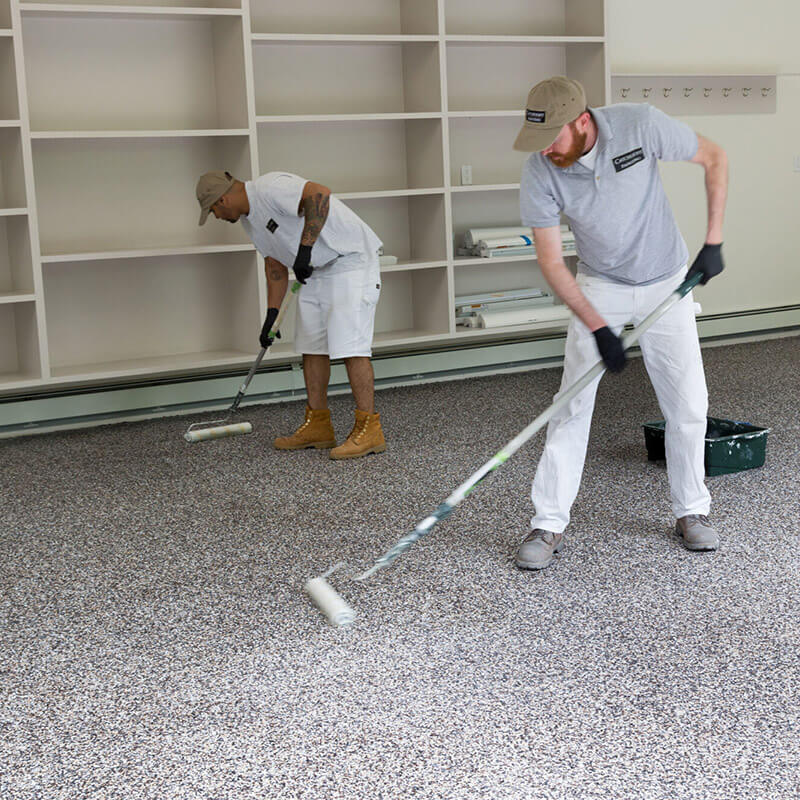 Epoxy Flooring Strength and Durability
Different from typical garage floor paint which is an acrylic product, epoxy floors are a combination of epoxy resin and polyamine hardener, the latter giving the surface its strength and durability. It is impervious to chemicals, oil, gas and most cleaners, and is water and bacteria resistant. Chips and dents that are typical in a garage will not appear on an epoxy floor.
Epoxy Finish Appearance
There are myriad epoxy floor finishes available depending on taste, utility and budget, from the high gloss finish we can create though polishing to the variegated textures and colors afforded by the sprinkling of pigmented epoxy chips into the finish coat as it dries. Perfect for garages as well basements, playrooms, offices and kitchens, these decorative chips add color, design, and durability, and are available in 1/4″ and 1/8″ sizes, as well as a variety of solid and mixed blend colors. Custom colors are available upon request.
Concrete Floor Protection
Epoxy flooring is applied directly to a cement floor and protects it from cracks, stains and water damage. It seals the cement from the dust that is often stirred by typical garage or basement use.
Proper Floor Coating Application
You can expect a 3-day production cycle for application of an epoxy floor, including wash, rinse, sand, and application of a vapor barrier prime coat, an epoxy base coat, chip application and the gloss finish.
Our trained and experienced crews use HEPA-filtered vacuum extracted polishers and sanders to eliminate 100% of airborne dust.  All of our epoxy products are low odor and professional, not DIY grade. Our labor and materials are guaranteed for 3 years.
Call us today! Color and product consulting are included with the estimating visit.
Get In Touch With Us About Your Epoxy Floor Coating Project Today!
Catchlight estimates are provided free of charge.
All Catchlight work is guaranteed for three years, inside and out.
Our Epoxy Flooring Portfolio
How much does it cost to epoxy a floor?
The cost of an epoxy garage floor can vary based on a number of factors, including the size and condition of the existing floor, the type of epoxy and materials used, the desired finish and the number of coats that are required. We advise that these details are clearly identified in any cost estimates you receive. Our epoxy flooring projects typically start at $1200 for a one bay garage in excellent condition, and up to $5000 for a multibay garage needing significant degreasing/decontamination before the regular preparation and polishing can commence.
How long do epoxy floors last?
A properly maintained residential epoxy floor can last decades under normal use and if properly applied. Maintenance is simple and might include occasional cleaning with a dustmop to remove debris that can damage the surface along with a semi-annual mopping with a solution of ammonia and water.
Is epoxy flooring safe for the home?
Yes! Epoxy floor coatings can be the perfect solution for a basement or office in your home. At Catchlight, we mitigate any risks to homeowners or to our crew by using low or no VOC professional epoxy paint and HEPA filtered polishers and sanders to eliminate 100% of airborne dust.
Catchlight is fully licensed and insured. All work is warrantied for three years.
"Catchlight recently painted my kitchen cabinets (which were originally stained wood). Nigel, Scott, and team did a great job! I would highly recommend Catchlight and will call them again for future work."
Jenna Sullivan
"I had a dull kitchen that needed updating, so I gave Catchlight a call on a whim. The painter that Nigel (the owner) sent was terrific. Not only was he polite (concerned about his shoes when he entered, asking which bathroom he was allowed to use, inquiring about where he can leave his things), but there was not a speck of dirt left in my kitchen after he painted. He cleaned up the entire kitchen even did the couple of dirty dishes that were left in the sink!"
Jenny K., Brookline
"We've had an exceptional experience with Catchlight. The team is outstanding – professional, efficient and accommodating. We've been very pleased with the cost for the job, the time-line for the work, and the quality and care brought to our home. They're a phenomenal group of painters."
K.C., Chestnut Hill
"Linda, Bill, and Tracy were the backbone of the crew that painted the interior of our home. They were fabulous: courteous, prompt, and attentive to detail. Our cabinetry and walls have never looked better. Their work is beyond compare."
Genevieve B., Cambridge
"I could not be more pleased with Catchlight. It is my recent experience that very few service providers operate in this high level of professionalism. I recommend them to anyone looking for a great team of painters who get the job done on time and within budget. They were a pleasure to work with."
Nat S., Newton