Free Paint Included in Our Winter Promotion
Catchlight's Winter Promotion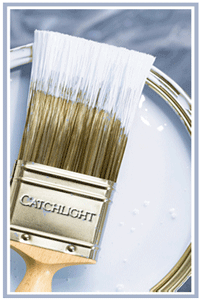 A New Winter Coat For You;
A New Winter Coat For A Child In Need
The arrival of cooler outdoor temperatures means we begin to spend more time hunkering down indoors.  The small wall cracks, chipped or peeling paint, and dull kitchen cabinets that weren't so apparent in summer are now beckoning to be refreshed with a new coat of semi-gloss paint.
Schedule your painting project with Catchlight between Thanksgiving and the end of March, and we'll supply the paint for FREE. The same professionalism, quality and service you've come to expect from Catchlight Painting, and up to $500 of paint on the house!
When your home's winter paint coat has been completed, we'll donate, in your name, a winter coat of a different kind to the Kids Clothes Club, an organization dedicated to keeping local kids warm in winter.  A coat for you; a coat for children in need.
About Our Crew
When homeowners hire Catchlight Painting, they are greeted by a crew that is highly trained and extraordinarily professional. You'll find friendly communications, exacting standards, a work area that is left clean at the end of each day and an end result that will delight you. Our customers will often comment on the quality of our work, yet at the same time, tell us it is our crew that is extraordinary.
About Kids Clothes Club
Their Mission: Since 1991, the Kids Clothes Club has been providing new, warm winter coats to children in need. In our first year, we helped 30 children stay warm through the frigid New England winter.
To date, Kids Clothes Club has raised over $1.9 million, has served 28 communities and over 92,000 children. Catchlight Painting is a proud supporter!
From Catchlight Customers:
★★★★★

Based on 32 Reviews
"Nigel and the team at Catchlight have always been a pleasure to work with. Their work is of the highest quality and their team members easy to work with. I would recommend Catchlight to anyone looking for a great partner in the care of their property. "
"Catchlight is not only about great work but also great people. We have hired them over three times and are continually impressed. Nigel, Wanderson, Scott, Xavier – all super individuals who are true professionals and take their craft seriously. Do you love yourpainters? Because we do. Catchlight receives our highest recommendation."
"Catchlight Painting repaired an extensive amount of peeling, cracks, stains and other water damage in my 1880's home. There were horsehair plaster walls to repair, delicate trim to stain and ceilings to patch. The work was completed expertly by a crew of painters that was a pleasure to have in my home, so much so that I was sorry to see them go."
Let's Start a Project
Our Winter Coat discount is only available for a short time. Work must be scheduled Thanksgiving through March 31st. Contact Catchlight today for a free estimate.
Use the contact form below or call us at
(617) 734-1696, or email us and we'll be in touch promptly.
93R Border St.
Newton, MA 02465