Cleaning, Preserving and Preparing the Exterior of Your Home
Pressure or power washing is an obvious first step to fully clean a surface before painting. But what happens if after the cleaning you realize painting is no longer necessary?
We offer power washing services independent of painting because in some cases the accumulation of street dust and mildew makes the paint look much worse than it actually is. We have experienced times when a client has initially asked us for a painting estimate after we painted their neighbor's home. After a careful inspection of the exterior, we discovered that the home simply needed washing. Prior painting bids from other painting companies were $25,000; our power washing cost less than $1,000.
We are available to power wash a variety of surfaces including:
Siding
Walkways
Decks
Brick
Roofs
Commercial Buildings
Do I need to power wash my exterior?
Yes. Proper surface preparation is key to a beautiful, lasting finish as paint will not adhere properly when applied over dirt that naturally accumulates on an exterior surface. Power washing is the obvious first step.
Will power washing add to the cost of the project?
Power washing your home will be included and clearly identified in Catchlight's estimate. The cost of power washing will be a fraction of the cost of the inevitable re-painting that will be required if this step is skipped.
Power washing and environmental concerns
All power washing and house cleaning products call for wetting of adjacent surfaces and plants to ensure a concentrated house washing solution does not discolor or cause damage inadvertently. This means keeping plants, patios, etc. wet while applying detergents. The primary cleaning agent is sodium hypochlorite since it has excellent destaining abilities – organic dirt becomes water soluble and non-volatile which facilitates its removal. However, once rinsed off the house these same products are simply absorbed by the ground and rapidly degrade before they can be absorbed by organisms. We have yet to see any damage to lawns or gardens when these products are used properly and according to directions.
Catchlight is fully licensed and insured. All work is warrantied for three years.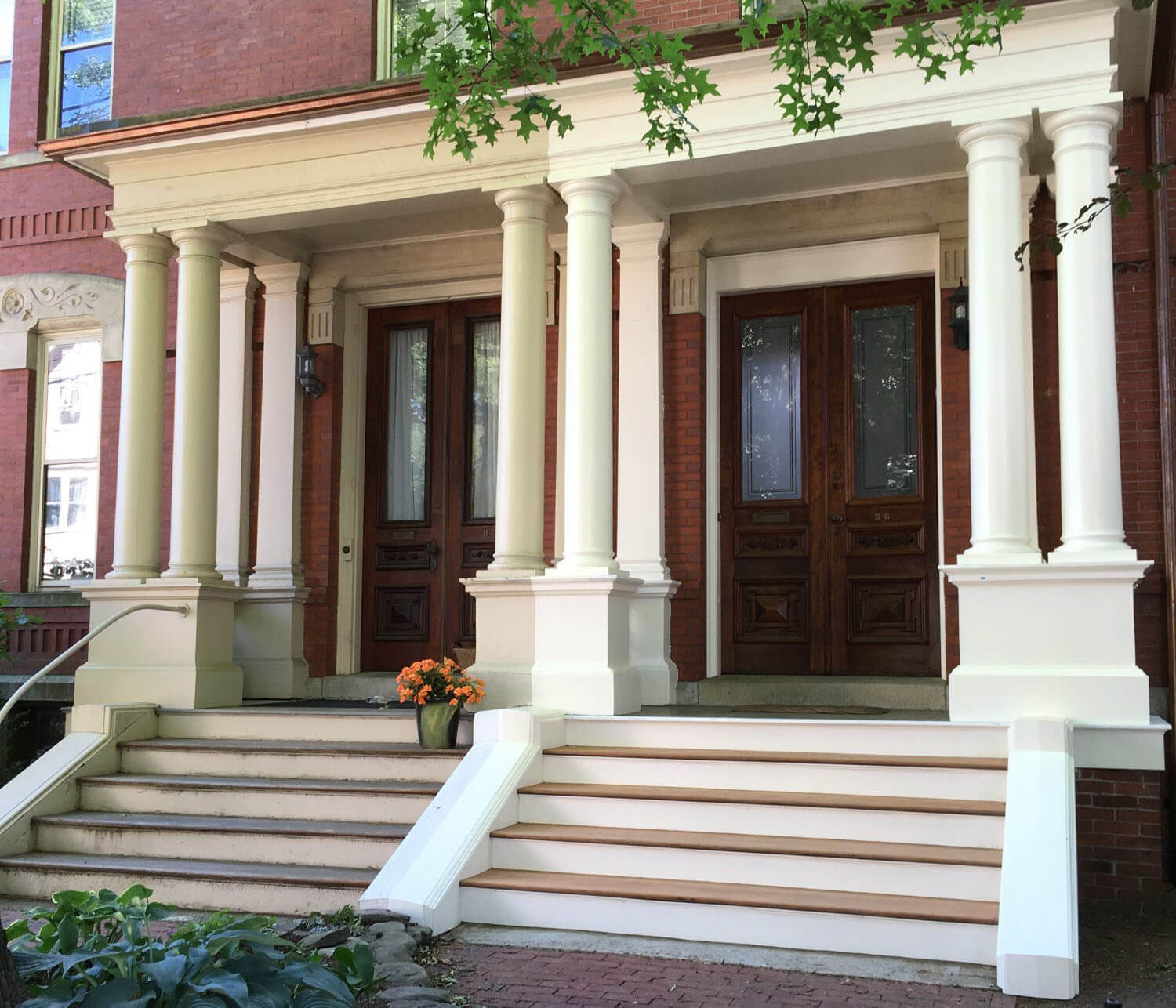 "I had the privilege of having my Cape-Cod-style house painted by Catchlight Painting. They sanded, primed, and stained it beautifully and many of my neighbors have complimented me on the job they did and how courteous and professional they all were. Tim, Levi, and the crew did an impeccable job cleaning up everyday and Nigel (the owner) was always available and did his best to accommodate my needs and concerns about the job. I wouldn't hesitate to recommend these guys if you need to have work done!"
John T., Boston
"We hired Catchlight Painting to paint the porches on our 1926 two-family home. Not only did the painters handle with lead paint issues with expertise, they thoroughly scraped and sanded the surfaces before priming and painting. At the end of the job, the foreman carefully reviewed the entire project and developed a meticulous punch list that included washing windows! We were extremely pleased with the quality and professionalism of the Catchlight crew. Neighbors remark about how fine the front of the house looks!"
Barbara P., Brookline
"I love the professionalism of Catchlight Painting. They show up when they say they will, they evaluate the job with a keen eye and make recommendations on other ways to improve or enhance your property that are right on target. All that without the pressure because they are polite and respectful of their clients.
We used Catchlight's "Painter for a Day" program to do some touch-up before putting our house on the market. When they came to look at the job, they made solid suggestions which really made the difference between a so-so job to a splendid job.
The house sold within two weeks! Thank you Catchlight!"
Patti K., East Watertown
"Catchlight is very much alive and thriving. The painters are incredibly knowledgeable, work with precision, dexterity, speed, are fine craftsman, and take enormous pride in their work. They are also amazingly neat and tidy and extremely fun to have around the house. I miss them. The President, Nigel Costelloe, cares deeply about the quality of the work, and is in constant communication about one's satisfaction with the work. I highly recommend Catchlight for both indoor and outdoor painting. I've used numerous painters over the years and now that I've been fortunate enough to find them, I'll never use anyone else"
Annette J., West Roxbury
"We've had an exceptional experience with Catchlight. The team is outstanding – professional, efficient and accommodating. We've been very pleased with the cost for the job, the time-line for the work, and the quality and care that the professionals brought to our home. We would absolutely recommend this company to a friend or family member. They're a phenomenal group of painters."
K.C., Chestnut Hill