Your Kitchen, Your Style
Though kitchens were once a small room tucked away towards the back of the house, today's kitchens tend to be prominently featured and the preferred gathering spot for family and friends. (For an interesting read, google 'history of kitchen design')
From designer to artsy, humble to grand, your kitchen reveals your style.  How might a color change or fresh coat of paint transform your cabinets or walls?
Kitchen Cabinet Painting & Refinishing
The factory finish applied to cabinet interiors is generally harder than a field applied coating, so it's best to limit kitchen cabinet refinishing to door fronts and exterior cabinet surfaces. That said, when these surfaces are properly prepared and a cabinet-specific paint is applied, the results are guaranteed to be durable, washable, and long lasting.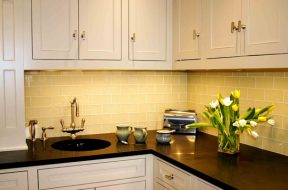 While spraying provides a smooth flawless appearance, brush application is more traditional.  The choice is purely esthetic and a matter of personal preference.
Refinishing work is typically done on location to minimize handling and logistics, however, removable elements – such as door and drawer fronts – can be taken off site if requested. Hardware is best removed stored and reinstalled once the new finish has fully cured.
Most importantly, refinishing work should be done in dry rather than humid conditions.  If the work area is air conditioned, refinishing can be done anytime; if not, winter is the ideal time of year to schedule cabinetry work.  Plan for your kitchen to be out of commission for several days as our crew will need time to properly clean and sand each element before applying a fresh coating.  Many Catchlight customers opt to schedule kitchen cabinet refinishing while away.
Let's Talk
Catchlight Painting adheres to all OSHA Safety regulations and proudly serves homeowners throughout Newton, Weston, Wellesley, Cambridge, Brookline, and the extended Greater Boston Metropolitan Area. Our crews provide exceptional customer service, attend to the details and achieve outstanding results. Check out our online reviews. References are available upon request.

★★★★★

based on

4

reviews

Overall rating:
Excellent Company
★★★★★
"
Catchlight Painting based in Newton is excellent. Ask for Nigel and tell him I sent you!
"
Excellent Customer Service
★★★★★
"
Catchlight Painting is very high-quality and the customer service is excellent. They also have a "painter for a day" program that is a little less costly, I have used it for a smaller job.
"
Real Pros!
★★★★★
"
Fantastic! Hard to imagine (improving this service) – you guys are real pros!
"