Kitchen Painting & Cabinet Refinishing Services in Greater Boston
Today's kitchens are at the center of any home, the preferred gathering spot for family and friends. (For an interesting read, google 'history of kitchen design'). From designer to artsy, humble to grand, your kitchen reveals your style. How might a color change or fresh coat of paint transform your kitchen cabinets or walls?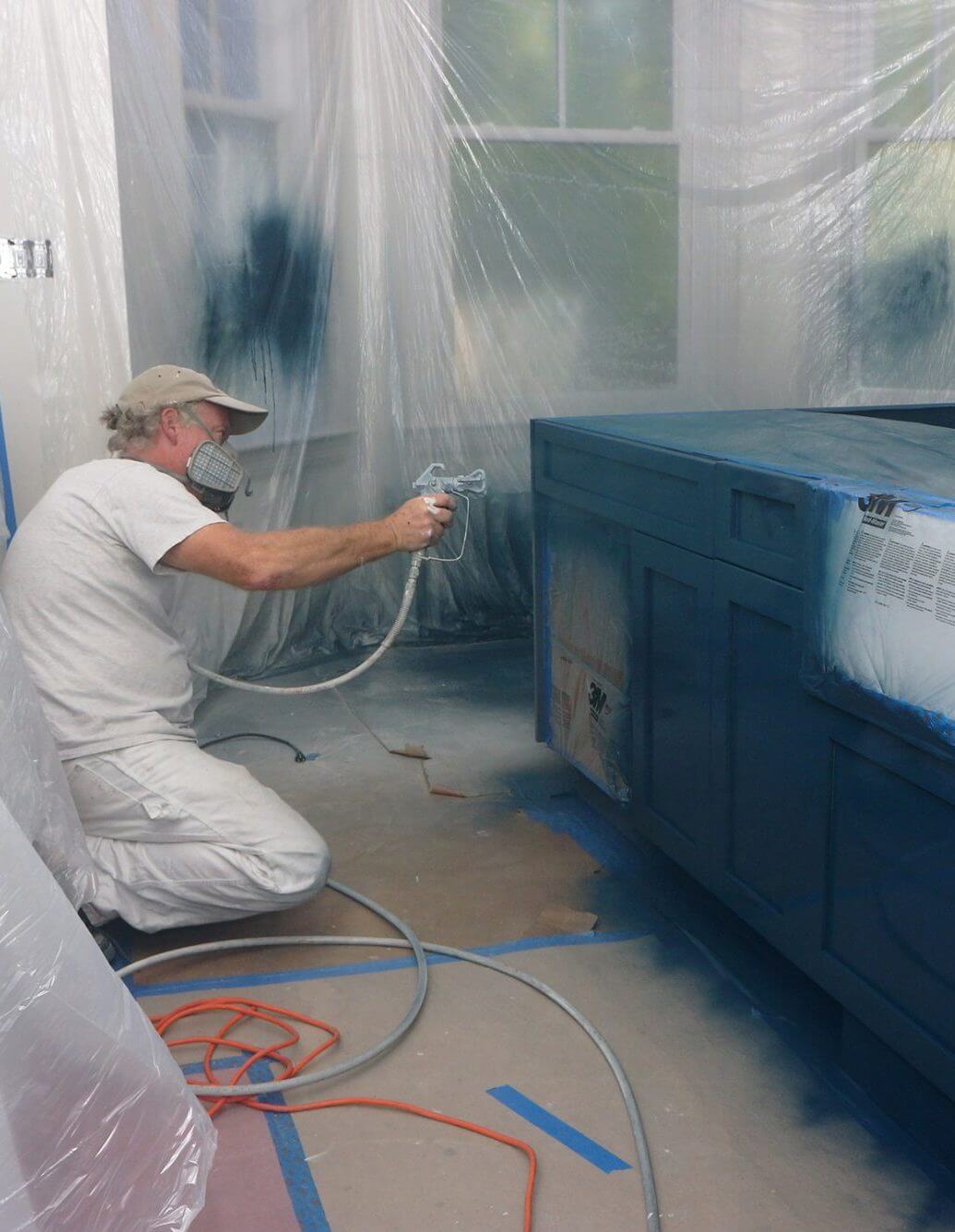 Cabinet Painting and Refinishing
When kitchen cabinets are properly prepared and a cabinet-specific paint color is applied, the results are guaranteed to be durable, washable, and long-lasting. At Catchlight, we apply paint either by spraying which provides a smooth, flawless appearance, or by brush, which is more traditional. The choice is purely aesthetic and a matter of personal preference.
Refinishing kitchen cabinets is typically done on location to minimize handling and logistics. However, removable elements – such as door and drawer fronts – can be taken off site if requested. Hardware is best removed, stored, and reinstalled once the new paint finish has fully cured.
Most importantly, refinishing work should be done in dry rather than humid conditions. If the work area is air-conditioned, refinishing can be done anytime; if not, winter is the ideal time of year to schedule cabinetry work. Plan for your kitchen to be out of commission for several days as our crew will need time to properly clean and sand each element before applying a fresh coating.
Our Kitchen Painting Portfolio
Are You Looking For Kitchen Painting in the Greater Boston Area?
Contact the experts at Catchlight Painting for a free estimate! All Catchlight work is guaranteed for three years, inside and out.
Do kitchens need special paint?
Yes, and no. While a kitchen presents a more engaging and interactive environment than most rooms in the house, using a high quality paint should afford appropriate and sufficient protection and durability. All premium paints are highly washable these days. Similarly, a cabinet grade paint should wear well when properly applied. Expect unusual wear and premature failure where paint is exposed to steam from a dishwasher vent, drips from sink overflow, or heat discoloration due to stove top proximity.
What is the difference between spraying and painting cabinets?
While spraying provides a smooth, virtually flawless appearance, brush application is more traditional. The choice is purely esthetic and a matter of personal preference. We'll be happy to show you samples so that you can make an informed choice.
How long will it take to paint my kitchen?
Typically, one week. We understand that kitchens are most often the center of home life and painting will cause disruption. The time it takes to complete each project varies depending on its size and scope, but we will stipulate a firm start and end date in your contract so that you can enjoy your newly painted kitchen as soon as possible.
Catchlight is fully licensed and insured. All work is warrantied for three years.
"Catchlight recently painted my kitchen cabinets (which were originally stained wood). Nigel, Scott, and team did a great job! I would highly recommend Catchlight and will call them again for future work."
Jenna Sullivan
"I had a dull kitchen that needed updating, so I gave Catchlight a call on a whim. The painter that Nigel (the owner) sent was terrific. Not only was he polite (concerned about his shoes when he entered, asking which bathroom he was allowed to use, inquiring about where he can leave his things), but there was not a speck of dirt left in my kitchen after he painted. He cleaned up the entire kitchen even did the couple of dirty dishes that were left in the sink!"
Jenny K., Brookline
"We've had an exceptional experience with Catchlight. The team is outstanding – professional, efficient and accommodating. We've been very pleased with the cost for the job, the time-line for the work, and the quality and care brought to our home. They're a phenomenal group of painters."
K.C., Chestnut Hill
"Linda, Bill, and Tracy were the backbone of the crew that painted the interior of our home. They were fabulous: courteous, prompt, and attentive to detail. Our cabinetry and walls have never looked better. Their work is beyond compare."
Genevieve B., Cambridge
"I could not be more pleased with Catchlight. It is my recent experience that very few service providers operate in this high level of professionalism. I recommend them to anyone looking for a great team of painters who get the job done on time and within budget. They were a pleasure to work with."
Nat S., Newton