Professional Handyman Services
A drafty window. Doors that don't close. Cracked stair treads. Furniture in need of assembly.
Tending to problems like these are jobs too small for a general contractor or never make it off the 'honey-do' list due to time, tools or technical challenges. Let our professional handymen arrive with the same attention to detail and professionalism that you've come to expect from Catchlight, and we'll help you get those pesky fixes taken care of.
Catchlight's professional handymen adhere to the industry's highest standards and are subject to drug tests and background checks through the Massachusetts CORI listing. Our service rate is $115./hour; the initial visit is $250 applied to contracted work.
Light Carpentry – repairs, replacement
Baseboards & moldings, door and window casings
Kitchen cabinet & drawers
Broken window sashes and latch repair, glass replacement

Stair tread and baluster replacement

Deck repairs
Organizing & Decor
Shelf hanging
Towel bar installation and repairs
Picture hanging on awkward, hard to reach walls
Window treatment installation
TV wall bracket installation

Furniture assembly

Closet system installation

Replace impossible-to-reach lightbulbs
Plumbing
Clogged drains
Bathroom fixture installation
Running toilets
Leaking/spraying faucets
Lighting
Fixture hanging
Bulb replacement
Replacement switches
Ceiling fan installation
Seasonal Maintenance
Window caulking & weather stripping
HVAC filters
Window A/C installation & removal
Smoke/carbon monoxide detector installation & battery replacement
Exterior power washing
These are just a few of Catchlight's handyworker services. Call us with your to-do list. At $115/ hour, we'll help you check off each task so you can focus on the important stuff – kids, spouses, and naps!
Looking for Handyman Services in the Greater Boston Area?
Contact the experts at Catchlight Painting for a free estimate! All Catchlight work is guaranteed for three years, inside and out.
How Much Will My Interior House Painting Project Cost?
We are very happy to provide budgeting referencing photographs from an online real estate listing. Further, we can typically price kitchen cabinetry if you provide a door and drawer count. If our budgets align, we can then arrange for a visit to your home to confirm pricing.
Pricing And Value
It takes time, skill and experience to produce results that are beautiful and guaranteed to last.  We'll provide fair pricing for your project after meeting with you and listening carefully – our proposal will be detailed and our pricing transparent – and our pricing will also reflect our commitment to our employees, to run a legitimate company offering appropriate benefits, to attract and retain talented and successful home painters.
Serving the Greater Boston Area
We serve homeowners in the Greater Boston Area including Newton, Weston, Wellesley, Cambridge, Brookline, and throughout New England.
Catchlight is fully licensed and insured. All work is warrantied for three years.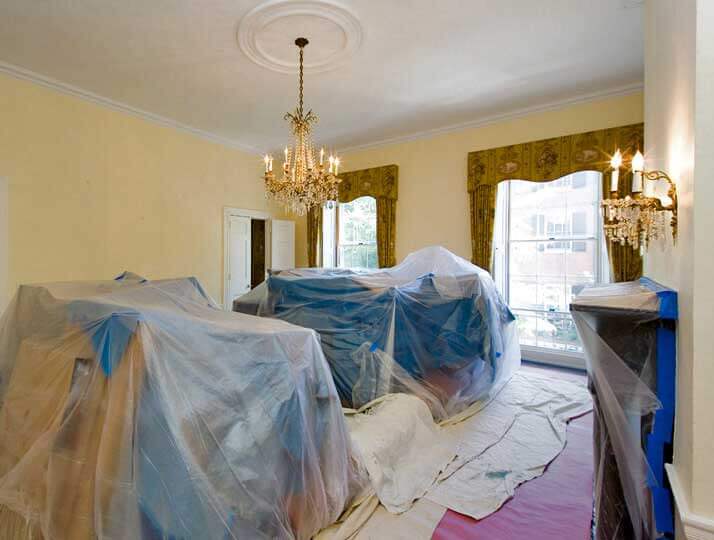 How To Prepare For Interior Painting
"What a great find! Catchlight just painted a number of rooms in our home and some required carpentry and repair. The team was very professional and the quality of the work was outstanding. We have worked with a number of painters and contractors over the years and this company is at the top of the list."
Anne S., Chestnut Hill
"This crew is awesome. True professionals and great work from start to finish. Couldn't be happier and would not hesitate to recommend to anyone. If I could give 6 stars I would."
Caroline C., Quincy
"Quality work, exceptional service and professionalism. Meticulous results, courteous and pleasant painters and thoughtful, organized management. A real pleasure to work with this company. They've participated in multiple projects at our home over a 3 year period and have always delivered consistent results and excellent service dependably. Highly recommend."
Yael K., Boston
"From our first meetings until completion, Nigel and his employees were not just efficient and skilled, but polite, considerate, and always gentlemen. It was a comfort that Nigel is so knowledgeable about the science of painting, environmental matters, and all state and federal regulations. Our house looks proud once again."
Howard L., Newton
"I have used Catchlight on two separate occasions over the past three years to perform interior painting services. The quality of work performed by Catchlight is beyond measure and their attention to detail is impeccable. This is a company that lives up to their promises without exception."
Stephen H., Brookline