They say eyes are the windows to the soul.  In New England, windows are an integral and essential part of the vernacular of older homes.
Compare the blank facade of a cookie cutter development home with its modern windows, faux mullions and shallow profile to the complexity of the traditional 6/6 double hung sash that sits back in the window casing, original glass filled with imperfections that convey defect as character.  I know which one I prefer.  We enjoy working on these masterpieces, intricately detailed and mechanically stoic; mullions that change profile in keeping with period preferences(ours are Norman, very slim and allowing barely 1/4″ of glazing putty to secure the glass), ingeniously simple pulley and weight, carefully balanced to allow generations of maintenance free service.
Its sad to see how often homeowners succumb to the replacement window trend in the belief that modern windows are more energy efficient. I've always argued otherwise – a properly maintained and locking double-hung sash married to a good quality storm window offers a much higher R value, simply given the air gap between the inner and outer window.  But my argument was more anecdotal than scientific.
Below is a PDF of a study by a friend and old house preservation architect Frank Shirley in which a more rigorous comparison proves my hunch.  We share it with clients whenever they question the wisdom of replacing another broken sash cord, or replacing a cracked pane.
Click the image below to view the PDF.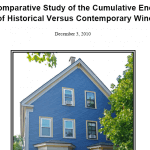 A Comparative Study of the Cumulative Energy
Use of Historical Versus Contemporary Windows