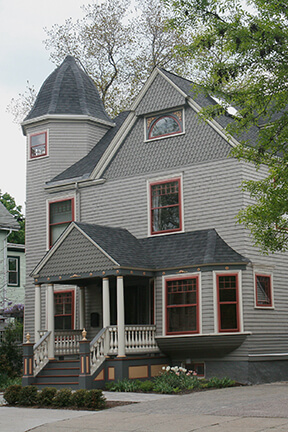 Beauty and Proportion
There's nothing quite like the beauty of an old New England home built into the landscape rather than on it. Older homes speak of proportion, scale and form. More than almost any other kind of project, we love working to bring out the original, inherent character and beauty in these pieces of history.
Each Historic Home Is Unique
Building materials and paint coatings have evolved substantially over time, and today are certainly much different than those used a century ago. We recognize the distinct attributes of older homes – the various building materials used and paints previously applied.
Before beginning work we examine the home's composition and condition, occasionally scrutinizing paint chips under magnification in order to understand the factors causing existing paint to peel. Often we find a thick assortment of distinct and inflexible paint types. We frequently detect small bubbles that indicate solvent or moisture blisters due to previous painting mistakes and/or trapped moisture.
Sadly, we also find issues with past repair work – replacement woods and fillers failing prematurely due to carpentry mistakes or a poor choice of product. We seek to preserve the wood on historic homes as it tends to be hardier than wood sold today. We will use wood-specific epoxies or source woods that match the original.
Brittle and Chipping Paint
A common issue with older interiors is the brittleness of the paint. Prone to easy chipping, we use a variety of lead-safe methods to remove delaminating layers. On natural finishes, especially handrails and newel post caps, sometimes a thorough cleaning with very fine steel wool is all that's needed.
Plaster Restoration – The "Key" to Effective Crack Repair
If you've ever seen the back side of a plaster wall, you've likely noticed how the plaster oozes between the laths. This is called the plaster 'key' and is how the plaster hangs on to a ceiling or wall without falling off. As plaster ages these keys tend to break causing the plaster to pull away. This results in the formation of cracks. Simply patching these cracks is a fruitless exercise. We use 2" inch plaster buttons to secure the plaster before excavating cracks and repairing them properly.
Old Glass and Sash Cords
We can also repair your broken glass, sourcing antique glass to maintain the historic integrity of your home. Catchlight can replace frayed or missing sash cords as well.
Older homes benefit from care that takes their composition into consideration. We would love the opportunity (and privilege) to help you conserve the beauty and soul of your historic home. Our Problem Solving section may also be a helpful resource.
Catchlight estimates are provided free of charge.
All Catchlight work is guaranteed for three years, inside and out.

★★★★★

based on

4

reviews

Overall rating:
Communication Was Excellent
★★★★★
"
I think the quality of the work & the painter's professionalism really made me glad I continued my relationship with Catchlight. Communication was excellent. I liked the updates we received about what was done each day and what they would attempt the next day.
"
Courteous and Respectful
★★★★★
"
I will definitely recommend Catchlight to others. The individuals who came to the house – especially Mike – were all great. Every crew member was courteous and respectful with all members of my family.
"
Respectful of Our Needs
★★★★★
"
I liked most that the team was courteous and respectful of our needs with a baby and of the house during the project
"