Restroom, powder room, master, or guest, over the course of the last 100 years, bathrooms have evolved from utilitarian, functional spaces clad in stark fixtures and cold tile to more carefully curated, spa-like retreats. Today's bathrooms are sometimes bold, sometimes soothing, often defined by highly stylized finishes, fixtures, and color. Ideally, they beckon you inside and invite you to stay awhile.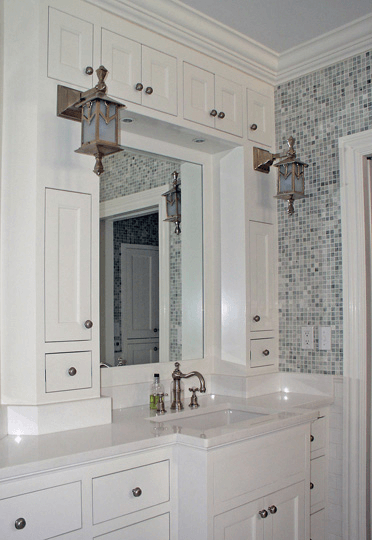 While bathrooms come in all shapes and sizes, painted in colors from hot pink to subtle greens, white bathrooms have been on-trend for many years. White is a classic, neutral choice offering a clean, crisp appearance, and allowing for accent colors that can be easily changed depending on season or mood. In a room that is often lacking natural light, white's reflective qualities add brightness and give the appearance of more space, particularly in historic homes where bathrooms tend to be smaller.
White paint comes in more shades than most of us can count, some with underlying tones of gray or green, others that tend toward yellow or beige. When choosing the right white color for your bathroom, consider the available natural and artificial light in the room, and test a variety of colors at different times of the day. Mirror placement might also affect your choice as your wall color will be cast in the reflection.
Benjamin Moore carries a wide range of white paint colors and recommends Chantilly Lace OC-65, Simply White OC-117, and Ballet White OC-9 for bathrooms. Farrow and Ball's Wimborne White or All White are also a favorite. We advise that you use a paint specifically engineered for rooms with high humidity, such as Benjamin Moore's Aura Bath And Spa Matte Finish, or a finish such as satin or semi-gloss that is not prone to retain moisture and wipes down easily.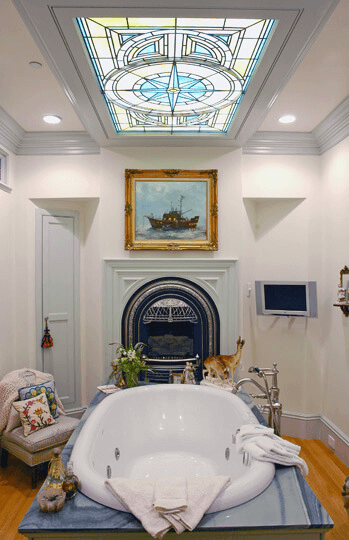 Throughout the Boston area, we've painted countless bathroom walls and bathroom cabinets, many painted white with a pop of color as an accent. Whether your home is contemporary or historic, look to the experts at Catchlight to help you find just the right color and finish to create a spa of your own.
Through March, we are offering our winter discount, paint and materials are on the house! Contact us to get started.