Paint color. It is one of the most important decisions you will make when you embark on a residential interior painting project. As any designer will tell you, your choice of paint color, bold or subtle, defines your personal style and establishes the ambiance you hope to achieve in your home.
As we head indoors for the colder season, the need to update the color of a room or repair and repaint walls that show wear and tear becomes much more apparent. It's the perfect time to take on a residential interior painting project!
At Catchlight, we approach every interior painting project with decades of experience and meticulous attention paid to every detail. Where do we begin? Surprisingly, it's not with applying color; we begin by protecting you and your home and then carefully prepare every surface.
Protection for You & Your Home
An important step in prepping a residential interior painting project is protecting your health and belongings. We begin by covering exposed furniture with plastic; floors are carefully taped and covered with canvas drop cloths; fixtures that are vulnerable to dust or paint drops are also covered.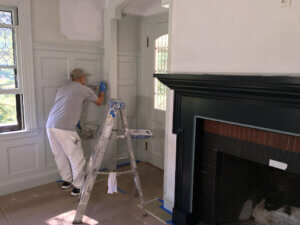 On every project, we use HEPA-filtered vacuums and sanders; negative air machines may be used to mitigate the dust often associated with sanding. In addition, all our crew members are trained in EPA and MA RRP lead safety protocols should we discover the presence of lead paint in your home.
Wall Preparation
At Catchlight, we often say that proper preparation is the key to beautiful, lasting results.
Prepping your walls and trim to the point that they are ready to paint requires a number of steps.
First, we clean the surface from dirt and scuffs and then spackle any dents or holes in the walls that may have resulted from nails or screws. As needed, we'll utilize caulk to cover cracks in corners, between walls and trim, or in doors, windows, and floorboards. Then we sand the walls to have a perfectly smooth finish for priming. Applying a coat of primer to surfaces provides a base layer with a consistent finish.
Before applying any paint or primer, we tape adjacent areas that aren't meant to be painted. Taping results in crisp lines and, when done correctly, prevents any possible bleeding of colors.
Residential Interior Painting – Paint Application
Finally, we are here at the final step; yes, it's applying paint color. Each of our residential interior painting projects is different; kitchen cabinet painting may require spraying, while others may require a roller or brush. Our expert craftsman and women will choose the right tools for the project and will most often sand between layers to result in a perfect finish every time.
When it comes to residential interior painting, you won't find a painting company more studied and deliberate than Catchlight; this is how we achieve beautiful lasting results! We guarantee it!
If you're looking for home painting services in Newton, Brookline, or the Greater Boston Area, please don't hesitate to contact us.