Colors of the Year 2022
New England's cold gray winter months are fast approaching, a time of year we could all use a bit more color to brighten our days and warm our homes. Perhaps it's fitting that the end-of-year marks the design and painting industry's very own statement of color, Benjamin Moore's and Farrow & Ball's Colors of the Year. We look forward to these announcements as it often dictates the trends we'll see in the coming months. This year did not disappoint!
Benjamin Moore
Benjamin Moore is well known for their variety of exclusive and trendy paint colors in a number of different finishes. Their choice for color of the year 2022 is no exception. The color is… drum roll please… October Mist (1495)!
"Make room for creativity. Evoking the silver-green stem of a flower, October Mist creates a canvas for other colors- and your imagination- to blossom," states the Ben Moore website. October Mist is a calming, harmonious color choice. The neutral sage green with gray undertones will enhance any room by creating a relaxing and nurturing environment. For those looking to add bolder tones, it provides the perfect backdrop for colors that pop. Catchlight Painting offers residential interior painting services if you would like your update your interior to match the colors of the year 2022.
October Mist is one of the many beautiful colors in Benjamin Moore's Color Trends 2022 Palette, shown here: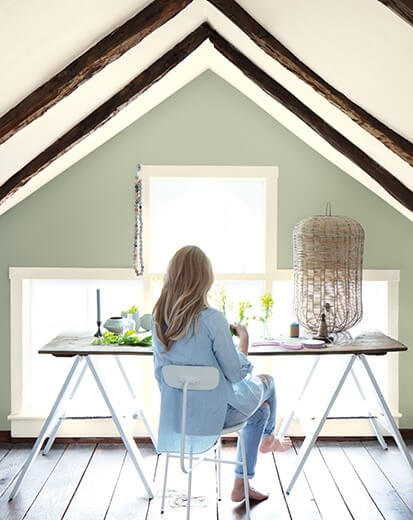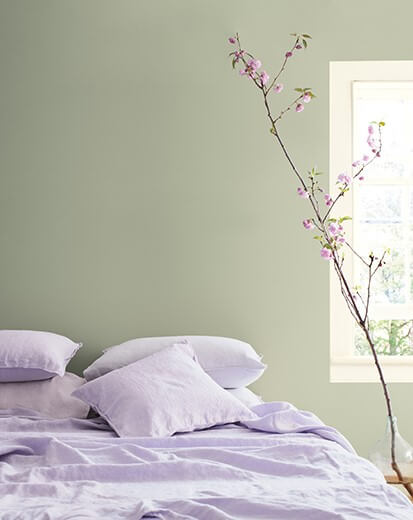 Farrow & Ball
When it comes to color, the folks at Farrow & Ball are always trendsetters. Farrow & Ball's color curator, Joa Studholme, who has extensive experience with color trends, predicts that simple, familiar color combinations will dominate the painting industry in 2022. You see this come to life with Farrow & Ball's colors of the year: Babouche, School House White, Breakfast Room Green, Stone Blue, and Incarnadine.
Let's take a closer look at Babouche No.223. This color is named after the leather slippers worn by men in Morocco. Babouche will brighten even the cloudiest days. It is perfect for positively embracing 2022.