At Catchlight Painting, we eat, sleep, and dream about paint, as you might imagine, and we proudly boast that no one can transform the paintable surfaces of a home like we can. Which is why, when we look for ways to give back to our community, we look for organizations that would benefit from a fresh coat of paint.
In recent years, we have painted the offices of The Second Step, an organization that supports victim of domestic violence, and Helping Hands, which helps adults with spinal cord injuries and other mobility impairments live more independent and engaged lives. This year, we painted the headquarters of Needham-based Hope & Comfort. The organization had been working in a space painted a stark white, a color that can feel a bit monotonous and clinical (especially if you haven't read our recent blog post on whites!). We arrived on the day before Thanksgiving, happy to help create a more comfortable workspace for those who provide comfort to people in need every day.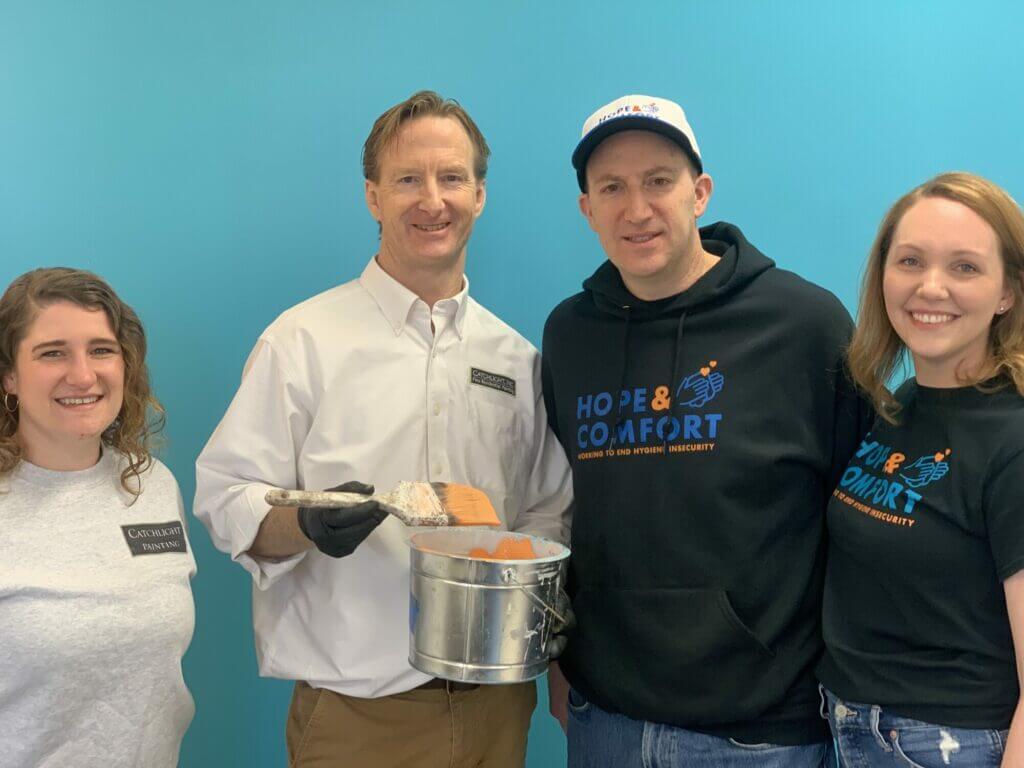 Hope & Comfort collects and distributes hygiene products to children and young adults in the Greater Boston area. You may be surprised to learn that hygiene insecurity among Greater Boston's low-income populations is a very real challenge. Hope & Comfort's website quotes some daunting statistics from a report by Feeding America: "50% of low-income individuals report cutting back on food to afford hygiene products [and] 40% reported skipping or delaying rent payments to obtain [hygiene] products." Providing everyday items like soap, toothpaste, shampoo, and deodorant can have a huge impact on people's lives.
In our culture, smelling clean is something that so many of us take for granted, but in fact, it deeply impacts our self-esteem. Our daily ritual of showering and brushing our teeth helps us feel ready to face the day with dignity. Hope & Comfort believes everyone should be able to feel this way; they envision a world where "one day everyone living in the US will have access to essential hygiene products to feel clean, confident, and healthy." Their mission is to provide that to Boston area youth in need.

In addition to supplying the hygiene products themselves, Hope & Comfort also helps organize youth volunteers and supports interactive hygiene education. They work with places like Catie's Closet, which turns unused places in public schools into closets containing high-quality clothes as well as Hope & Comfort's hygiene products. In these instances, children can pack their own hygiene kits, choosing items they need the most. Recently, Hope & Comfort launched the Innovation Fund, hoping to develop tech-based ways to get their products to those who need them in the long-term future.
What specific products does Hope & Comfort need? They need shampoo, soap, deodorant, toothpaste, toothbrushes, and menstrual products. Typically, they distribute full-size products, but will accept trial size products as well. From the donations they receive, hygiene kits are created and distributed to what they call "at-hope" youth, which they define as children and young adults who are incredible and need some extra support to meet their basic needs – youth who, by others, may be seen by others as "at-risk."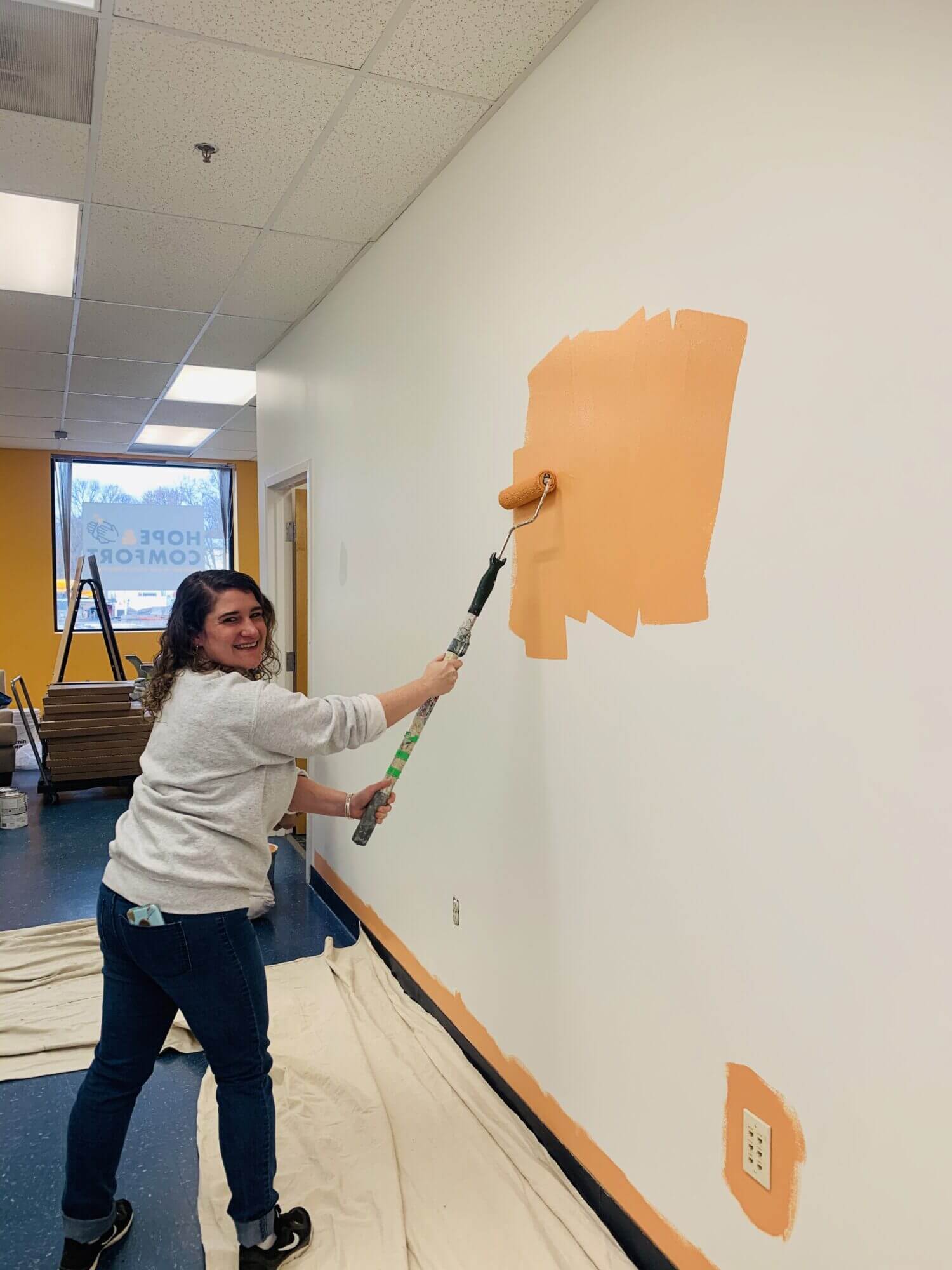 Hope & Comfort was started in 2010 by Jeff Feingold and his family.  They had planned a birthday party for their two-year-old daughter, asking party guests to bring items that would then be donated to a local nonprofit.  What they discovered in this process is that hygiene products are a huge unmet need.  Jeff set about finding a solution. First, he distributed products out of his garage, then earned 501(c)(3) status for the organization in 2011. By 2014, Jeff hired his first employee and moved his operation to a warehouse. This year, Hope & Comfort plans to distribute 500,000 hygiene products to Boston's youth, and is set to distribute 1,000,000 in 2020!
We were delighted to be asked to paint the offices of Hope & Comfort.  Executive Director Jesse Mattelman provided us with a map of the space, labeled with different letters corresponding to paint colors. Johnson Paint Company in Waltham generously donated the paint.  Our entire company (even the office staff!) showed up at Hope & Comfort bright and early on the Tuesday morning before Thanksgiving and got straight to work, painting Hope & Comfort's cheerful colors to many of their rooms. We are very proud of the work we did and couldn't be happier with the results.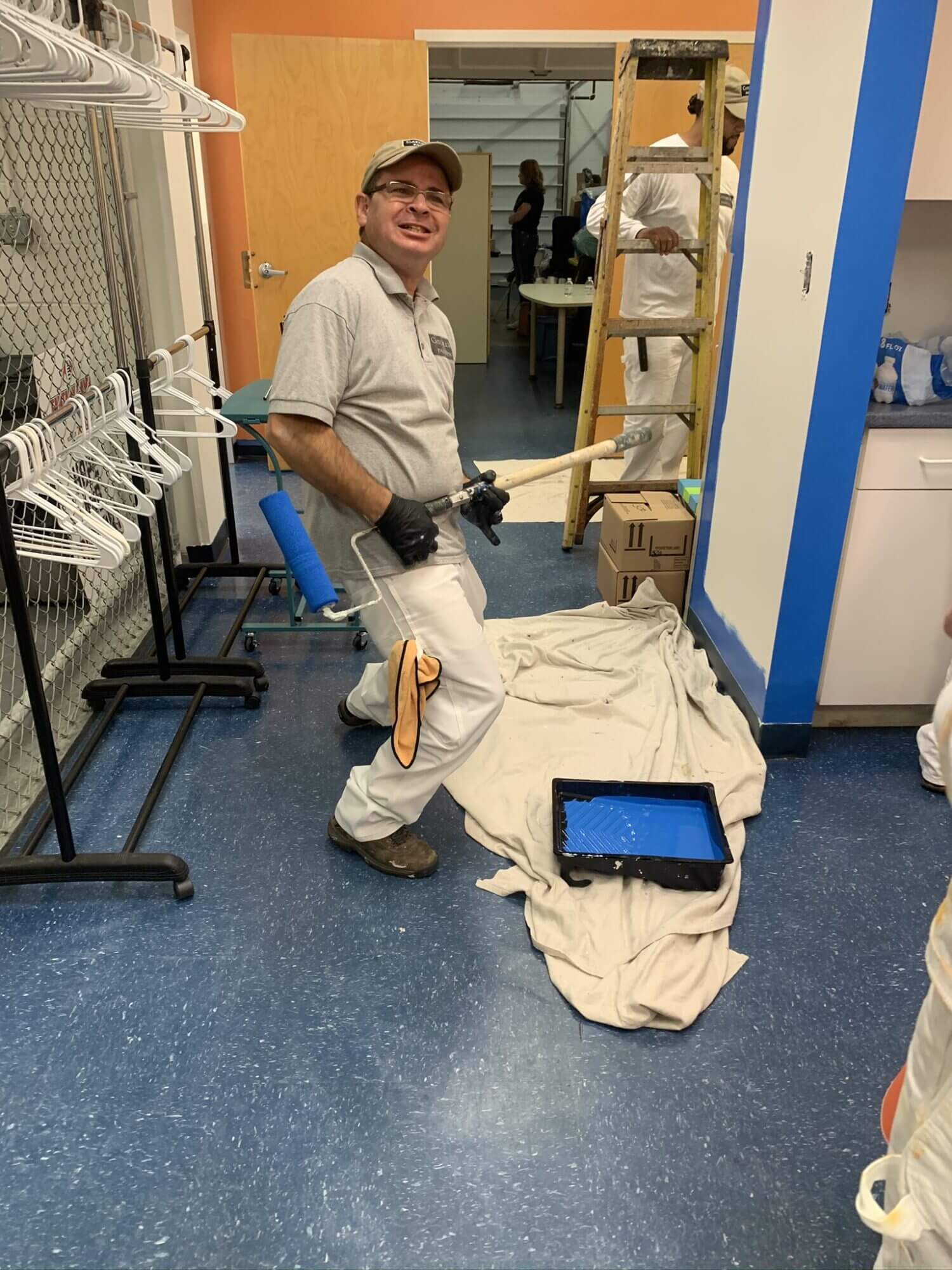 If you want to help out this amazing organization, you can donate, volunteer, or host your own donation drive. If you are a nonprofit organization, you can request products from Hope & Comfort.