It's a certain type of person who seeks to own and restore a Victorian-era home. It requires respect for the home's long history and a desire to preserve and protect it in a way that is more akin to stewardship than simple maintenance. There are countless Victorians scattered throughout the Greater Boston area in Newton, Brookline, Cambridge, and Weston that continue to receive this kind of loving care, each a resplendent piece of history and craftsmanship. They are a far departure from the cookie-cutter developments prevalent today.
At Catchlight, we've had a decades-long love affair with Victorian homes. In this article, we'll cover the common challenges and characteristics of restoring them.
Successfully Restored Victorian Homes – Some Shared Challenges
There are endless considerations when restoring a Victorian home, balancing its historic roots with modern-day living standards. Those for whom restoration is paramount will focus on preserving the home's unique structure and details like ornate plaster, elaborate woodwork, and unique shingle design. But restoration is more than what you see; it's also about how the home functions. That would include modernizing the mechanics of the house, like an updated HVAC system, energy-efficient windows, and modern amenities. Balancing the two can present challenges.
At Catchlight, we specialize in painting and light carpentry, two aspects of Victorian home renovation that are somewhat more straightforward; still, there is often much to be done when we restore a Victorian. We work closely with our clients to help them envision the possibilities and prioritize what matters most, including needed repairs and color choices.
---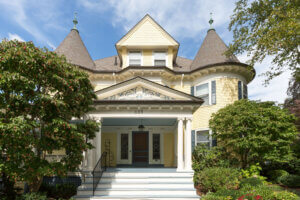 ---
Successfully Restored Victorian Homes – An Extra Step Before Painting
When Catchlight signs on to a historic home restoration or Victorian house painting project, preliminary tasks must be completed before any sanding, scraping, or painting occurs. We often find ourselves in the role of "forensic archaeologists," digging to find information about the original plaster, woodwork, and intricate details that are so often part of Victorian homes. From the architectural design to the period color schemes, from the rare wood species to the types of tools to be used, before we touch a paintbrush, we need a full understanding of the home so we can replicate the original craftsmanship authentically.
We know that all beautifully restored Victorians have this in common: the home should never be jeopardized by shortcuts; rather, careful steps should be taken to prepare and preserve every detail.
Accurately Representing the Period
Preserving Architectural Details
Victorian homes, by definition, have unique features like stained glass windows, doors, staircases, and molding with intricate scrollwork; and decorative shingle patterns. Before painting, it is important to repair and restore any damage from wear and tear or inclement weather conditions.
Many homeowners choose to restore their homes with historically accurate interior color schemes, staying true to the Victorian period as closely as possible. Still, others choose to keep the structure but prefer an updated aesthetic, perhaps colors already found in their furnishing or simply ones they find pleasing to live with. It comes down to personal taste.
Painting the exterior of a Victorian home is no small task. There are several factors to consider before choosing a color. Where is the home currently located? Is the neighborhood of historic significance? Do you want historically accurate colors? Is it important to highlight any details in the shingles?
Restoring Victorian Homes
At Catchlight, we specialize in the restoration of Victorian homes, understanding the unique challenges and rewards of preserving their history. If you're in the initial phases of restoring a historical home or considering purchasing one in the Greater Boston area, please contact us to start the consultation process. Learn about our home painting and carpentry services and how our talented team can bring your vision to life.