Any homeowner will tell you that caring for a home often requires an encyclopedic understanding of how to "fix stuff." Whether from everyday wear and tear, the effects of inclement weather, or because things mysteriously break from time to time, knowing how to make household repairs is a valuable skill for any homeowner. It seems some of us have that innate understanding of how things work and may spend hours on YouTube scrolling through how-to videos, but most of us choose to hire a professional handyworker to get the job done right.
What does a handyworker do?
A professional handyworker can perform any number of repair and maintenance tasks throughout the interior and exterior of your home. Do you have a window that doesn't close properly? What about a wobbly railing? A leaky faucet or some shingles that need repair? These are the types of jobs that are perfect for a handyworker. They come to your home armed with a wide range of knowledge and the right tools to properly fix almost any small problem. Do you have a "honey-do" list that has been growing over time? This is what a skilled handyworker takes care of.
---
---
When is a project right for a handyperson, and when do you need a contractor?
Start by assessing the work you want to be completed, the problem that needs to be solved, and what might be required to fix it. In general, you'll want to call a contractor if the project requires trade-specific experience, if a license is needed, or if the project is multi-layered, like adding a bathroom to your home. A handyperson can change a light fixture, but you need an electrician to rewire your den; a handyperson can put up drywall, but a contractor should do the kitchen remodel.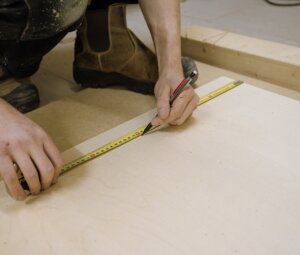 Finding the right handyworker for you
At Catchlight, our professional handyworkers are experienced in all manner of household repairs, from light carpentry to assembling furniture, light plumbing, and electrical, as well as seasonal home maintenance. We hold our handyworkers to the same high standards of integrity and trust that we do our painters; each is drug and background-checked through the Massachusetts CORI review.
Is your "honey-do" list growing by the day? Contact us at Catchlight to learn more.