Are blue kitchen cabinets timeless or trending?
Miles Davis' album Kind of Blue exemplifies for us the beauty, resonance, and soulfulness of the color blue. In fact, we at Catchlight feel the color blue is timeless and classic, modern and avant-garde in equal measure. It is why we love to paint kitchen cabinets in almost any shade of blue. In recent years, blue kitchen cabinets have caught the eyes of interior designers and homeowners alike.
We used Farrow and Ball's Hague Blue on the cabinets in the featured image. This darker blue tone serves to anchor the room and illuminate the textures, colors, and fixtures to great effect. Here, the depth and complexity of the color works well as an accent in the central isle, in contrast to the white walls and cabinetry throughout the rest of the kitchen.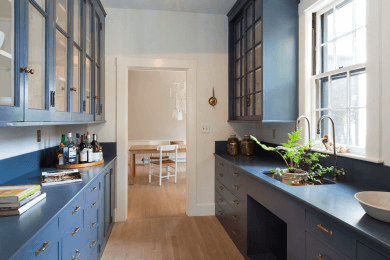 Once a utilitarian space meant for, well, the butler, the butler's pantry has become more than an unadorned nook for storing dishes and glassware. As this pantry finished in Benjamin Moore's "Deep Secret," CSP-625 demonstrates, beauty and function can coexist. The soft blue tone against walls and woodwork painted in Moore's Atriumwhite seamlessly blend the antique cabinetry with a more contemporary sensibility.
Sherwin William's blue palette offers an enticing array of moody blues; their 2020 Color of the Year Naval blue works successfully to focus attention on cabinetry or walls.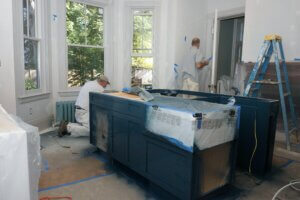 Outdoor Blues
A classic Colonial Revival exterior accented with shades of blue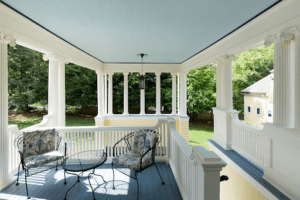 Common to porches throughout New England are the blue ceilings you see here. Why are porch ceilings painted blue? One source tells us they were originally painted blue to ward off evil spirits; others speak to the open sky aesthetic created when a porch is bathed by a light blue hue. Here, the ceiling is painted in the light and airy Windy Sky, and the floors in Benjamin Moore's Mineral Alloy, creating the perfect outdoor space to cool off on a warm summer day. Lemonade, anyone?
Are you looking to paint your kitchen cabinets or accent your exterior in a shade of blue? At Catchlight, we have spent more than 20 years painting the interiors and exteriors of Boston area homes in rich and warm hues, and blue is one of our favorites. Contact us today to learn more about blue kitchen cabinets, interior house painting services, are other color schemes for your home.