"Spring is just around the corner!" So says groundhog and weather sage Punxsutawney Phil. Those of us who spend our winters cozy and buttoned up securely in our homes greet the spring with opening the windows, literally and figuratively, and begin to breathe again. It's the time of year we often notice areas of our homes that are in need of freshening; peeling paint, scuffed woodwork, aging stains, and the cracks that appear out of nowhere. Handrails and railings are among them.
Staircases are significant architectural features, providing decoration, style, direction and protection. Their unique details can highlight a home's history and transform a drab space into one that is truly a sight to behold. While they take almost as much use and abuse as the stairs themselves, rarely are they considered when assessing areas that need sprucing up. However, breathing new life into your staircase and handrails can give your home a brand-new look.
First, a quick primer. What are all those different parts of a railing called, anyway?
Handrails are the horizontal rails your hand touches when climbing up or down your stairs. They can be bracketed to the wall or attached to the stairs with balusters.
Railing is not an all-encompassing term for everything between where you rest your hand and the surface of your stairs, but is merely the same thing as a handrail.
Balusters and Spindles provide vertical support for the handrail. Balusters are more common, and attach directly to the stairs, while spindles attach to a horizontal bottom support.
Newell Posts are thicker than balusters and spindles but serve the same function.
Banisters are sometimes just the handrail, but sometimes include the vertical supports as well. Ask Ken Jennings of Jeopardy fame, and he'll tell you the word originated as a mistaken variant of baluster, and over time usage changed.
(Our thanks to John Marsoobian from Twin Peaks Construction for providing most of these definitions)
Typically, when refreshing handrails, one paints the entire staircase, opting for paint, stain, or a combination of the two. At Catchlight, our clients often ask us to stain the balusters and handrails as well as the stair treads, and paint the stair risers. Generally, paint gives an area a light and airy feel, while stain is warmer and richer. Paint tends to cover up small design details, while stain highlights them. This is why we at Catchlight tend to favor staining. Staining is a more complex process than painting, but it allows the beauty of your wood handrail to shine through.
Preparation
When staining a railing, our first step is to repair the posts and close any gaps that have formed over the years. Since the grain of the wood will be on full display, gouges will be filled with stainable wood putty instead of caulk, to mirror the woodgrain and blend in with the rest of the railing. Paint or stain remover is carefully applied to remove the original finish so that the quality and beauty of the wood is not compromised. Our final preparation step is to use a fine grit sander to sand the entire area, making sure every surface is ready to take the new stain.
Staining
When applying stain to a staircase, we know that less is more. Stain darkens when more is applied, so we work the stain into the staircase in thin layers for a consistent color. We also apply the stain this way because the smoothness of each layer is of the utmost importance. Once the desired color tone is achieved, we seal it with a clear coat of polyurethane or something similar. This finish will help the surface stand up to the use it will get in the coming years without damaging the surface.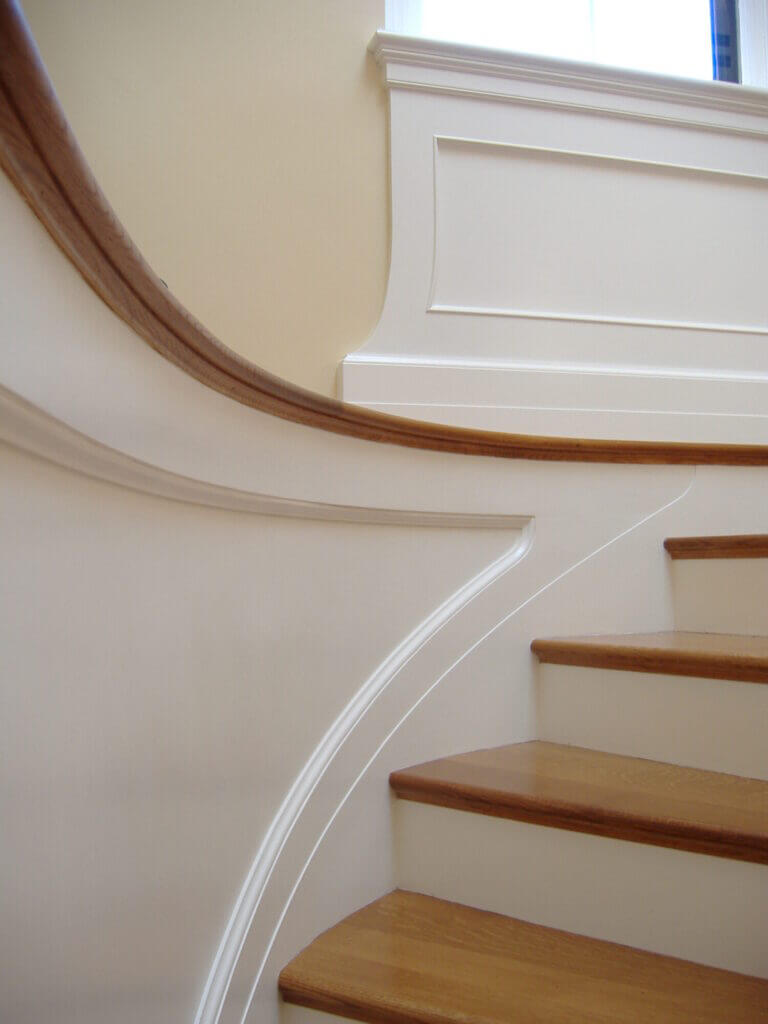 Often the central focus of an entrance, a revitalized staircase and handrail will have a surprising impact on the look of your entire home. At Catchlight, we take meticulous care of every detail, working with you to find the right shade of stain or paint so that each time you open your front door, your staircase welcomes you home.
If your handrails need a revamping, call Catchlight today! Or work is second to none.