A prospective customer called, referred by a business acquaintance, and asked us to estimate the repainting of his trim. "The house is new" he said, "it should be a simple job". Alas, a quick review shows a panoply of problems, a multitude of mistakes, a slew of shortcuts …
Below is a photo of nail holes filled, poorly, with caulk. Caulk shrinks, hence the studded appearance of the corner boards.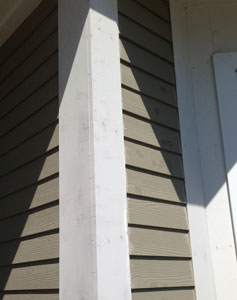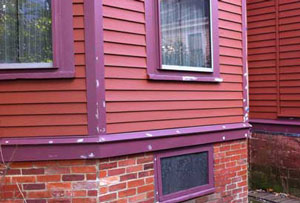 The photo shows the limitations of using #2 biscuit-jointed pine for exterior trim – rot has started after only 3 years.  This is an issue all over the house, most apparent at the tops of the right hand newel post. #2 pine is a marginal wood for finish construction – it contains knots which are hard to seal due to high tannin content,  and are prone to shedding paint due to the hardness of the knot.  On an exterior, the wide grain of this soft wood makes it a perfect and welcoming conduit for water; add in the nature of the finger joint and you have a recipe for trim with a very short lifespan.  Why then is it used so often?  Its cheap, its readily available, it comes pre-primed and looks almost flawless when new.  It requires the diligence of a project post-mortem by the builder to verify its usefulness.  For the painter, simple forensics, from ground level, is sufficient to observe its limitations. Our advice?  Replace!  It's honestly not worth repainting.
We invite you to learn more about our home exterior painting services.