The kitchen: for some, it is a place to calmly face a day with a cup of coffee and the day's Spelling Bee; for others, it is a bustling and chaotic center of family life. Often dubbed "the heart of the home," it is the place where conversations are enjoyed, meals are shared, and much of daily life is centered. Many of us would agree it is the most important room in your home.
When you walk into your kitchen, what features capture your attention most? Likely, it's the design and appliances that ensure a kitchen that functions properly, but it is also the cabinetry and finishes chosen to aesthetically suit your personal style. That's where your kitchen color scheme comes in; light, dark, or somewhere in between, it is one of the more important design choices you will make. A kitchen color scheme sets the mood for the entire kitchen, particularly the color of your walls and cabinets.
There are many colors to choose from; picking the right combination for your kitchen can be challenging. At Catchlight, we've painted kitchen cabinets in a wide range of colors, from a bright glossy Rembrandt Red from Fine Paints of Europe to a clean, crisp Dove Wing from Benjamin Moore. Various shades of blue have also become popular. Here, we're celebrating kitchen painting and the latest color schemes for 2023 and beyond.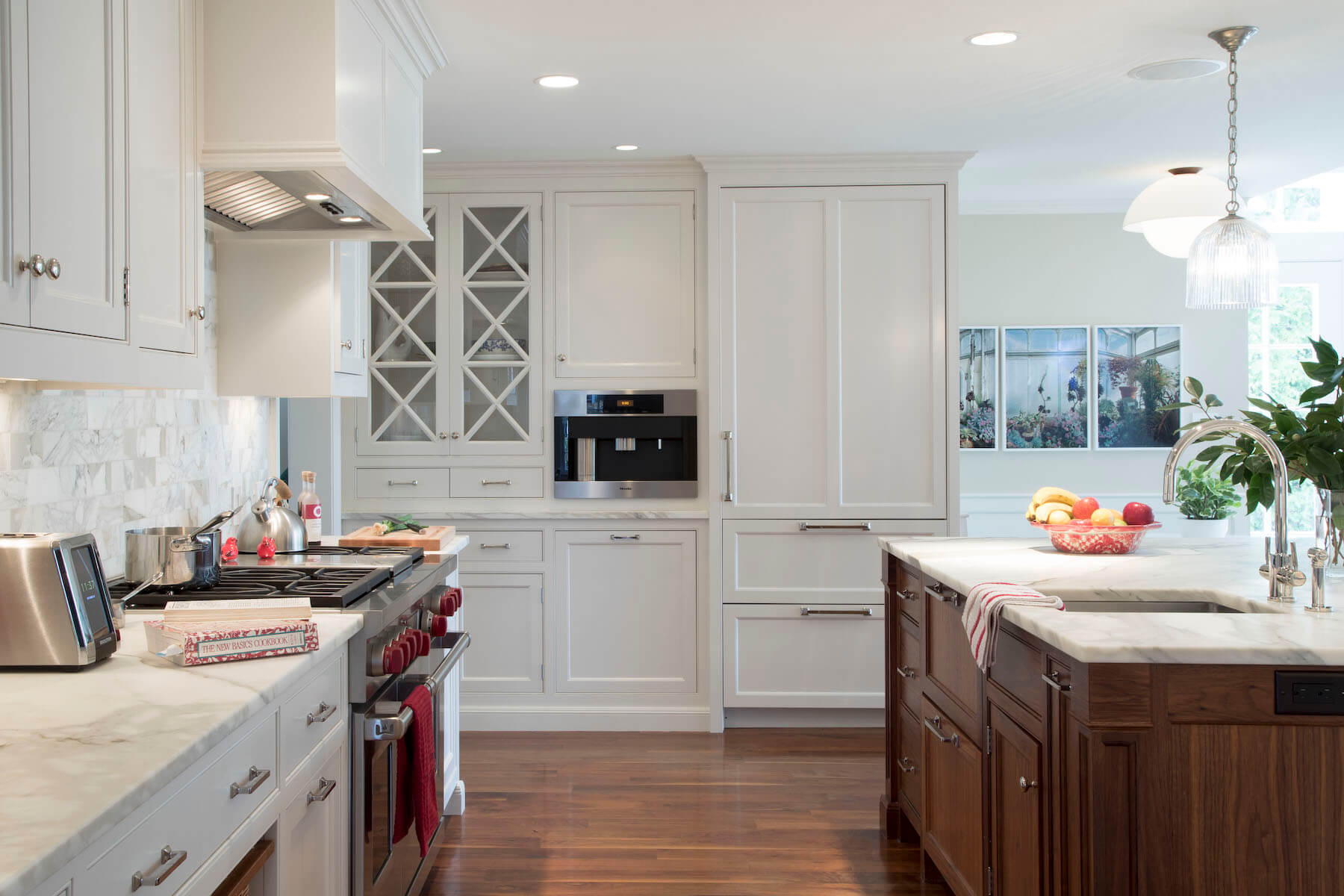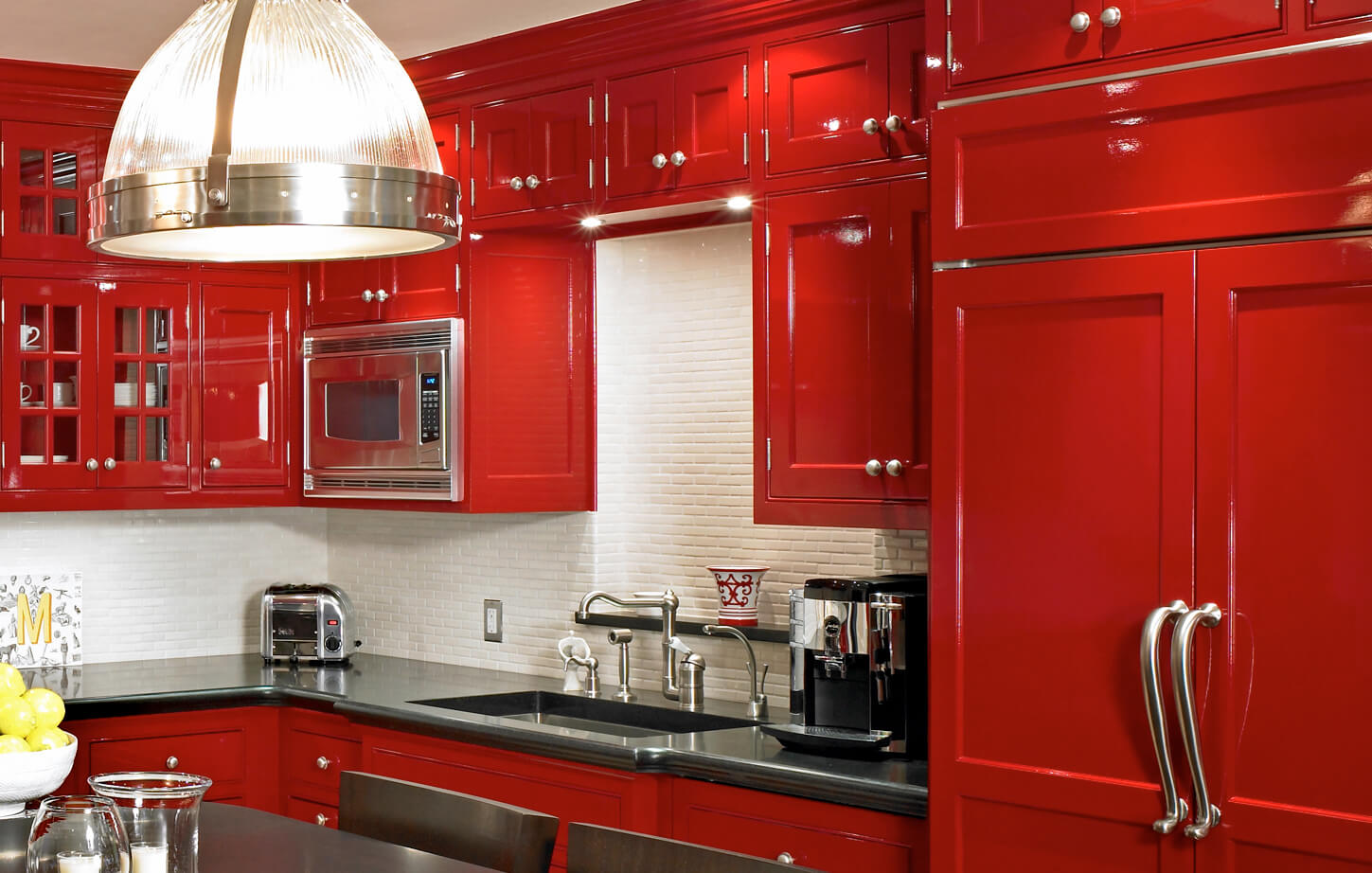 Choosing a Kitchen Color Scheme – What To Consider
Choosing a kitchen color is a commitment, a decision you will live with for some time. Before embarking on the process, think about the following:
 What mood or personality do you want to project in your kitchen? What feeling do you want to have when you walk into the room?  Do you prefer warmer or cooler tones?

What is your style preference? Do you want to stick to the classics or choose a contemporary, minimalist look?

Consider what already exists in your kitchen. Look at the fabric, appliance color, hardware, lighting, and faucets. Choose a color scheme that naturally blends with the features that will not change.
Trending Kitchen Colors
A recent article in Better Homes & Gardens listed 5 of the top trending kitchen color schemes for 2022:
There is something about green that is both contemporary and timeless. In recent years, we're seeing  greens that bring in the warmth of nature, like sage tones, bluer greens, like eucalyptus, and brighter greens that feel like springtime.
Black is a bold and elegant choice whether you are painting all your cabinets black or using it as an accent color. You'll find that black pairs nicely with almost any wood tone and is striking when used with a white backdrop.
There is nothing as classic as a white kitchen color scheme that has been warmed by gray overtones. It's a timeless color that will never become tiresome nor go out of style. We like the versatility of Benjamin Moore's Balboa Mist.
While yellow cabinetry is not for the faint of heart, yellow can be a perfect accent to your kitchen color scheme. Whether a deep yellow on a kitchen island or a warm buttercup yellow painted on the walls, yellow always feels like a bright and cheerful addition to your kitchen.
Darker color tones have been popular in recent years, but rich earth tones, like terra cotta, are gaining in popularity.  Look at Benjamin Moore's Color of the Year, Raspberry Blush. Ben Moore's website tells you that Raspberry Blush enlivens the senses with an electric optimism. Now, that's a way to begin your day!
At Catchlight, our interior and kitchen cabinet painters have painted more kitchens than we can count. We've been restoring and updating kitchen cabinetry and kitchen walls throughout the Boston area for more than 25 years. If you're searching for the perfect kitchen color scheme, we'll help you find just the right shade to create a fresh and inviting space for friends and family.