Anyone who has upgraded a kitchen, whether a complete gut renovation or a simple refresh, can tell you that kitchen cabinets are often the central focus of the project and will likely consume the largest part of your budget. You'll want to be selective about the kitchen cabinet color, style, the function or simply how you match what already exists in the kitchen. Be mindful of the latest trends but blend them carefully with your personal style and the way you want to live in this central room of your home.
This year, the hottest trend in kitchen cabinets is color — out with the white and in with your personality. So says David Boronkay, principal at Slocum Hall Design Group. "White has been the color of choice for kitchens for many years. Now, we're seeing clients painting out their cabinets in jewel tones and grays, often in a high gloss finish."  These red kitchen cabinets, painted in Schreuder's Brilliant Gloss Rembrandt Red, illustrates the elegance and character added by a dramatic color in a lacquer-like finish. Also note the crisp white tile backsplash adding contrast.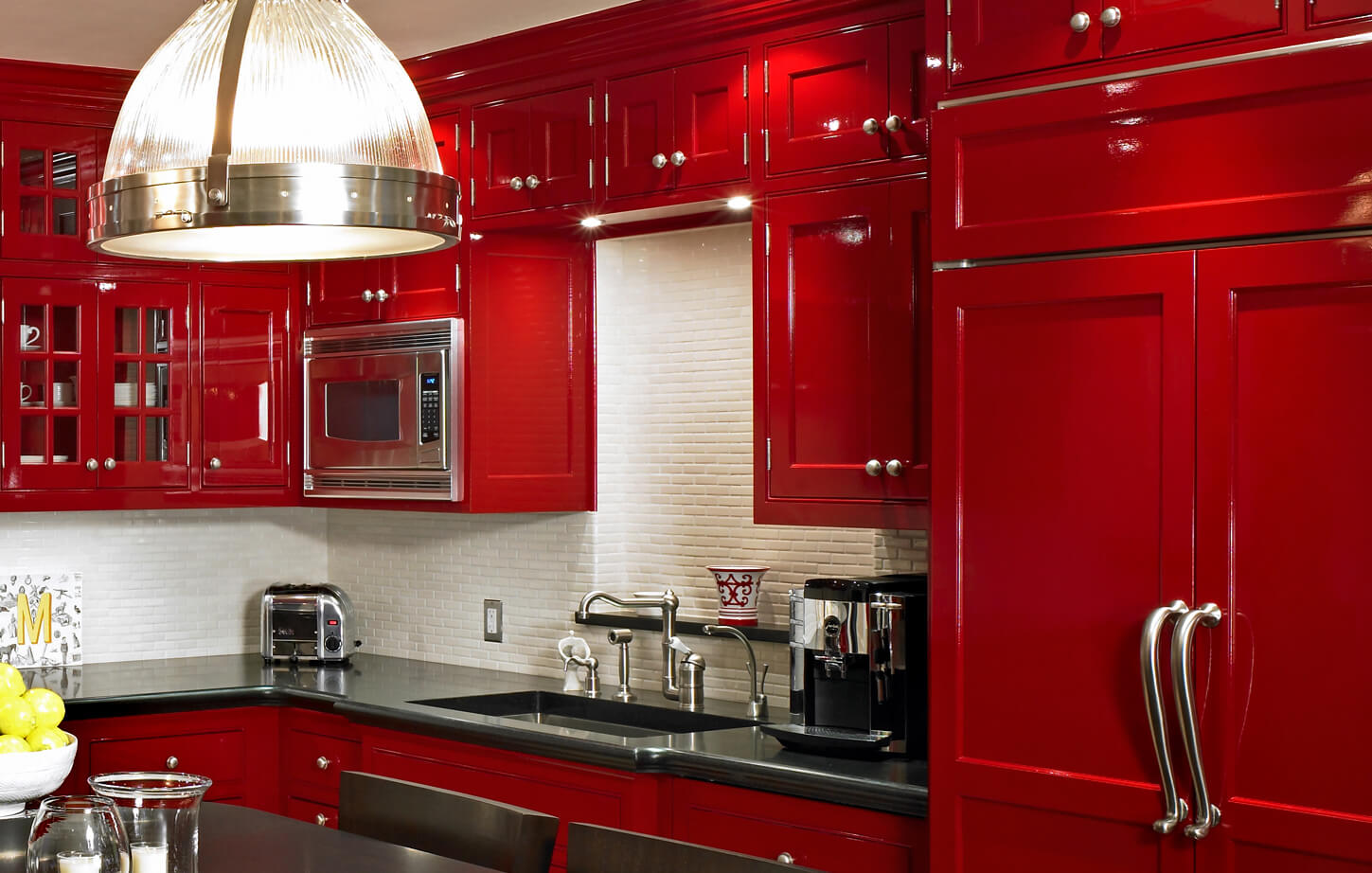 "Color is very important," agrees Dianne Ramponi of Dianne Ramponi Interiors. "A huge trend right now is to change up the color and the finish within the same kitchen, highlighting an island or a tall cabinet or accenting upper and lower cabinets. The two-tone effect can add just a hint of color to bring out a particular design element or sometimes, is a bold statement of style."
That is the effect of this Farrow & Ball Hague Blue kitchen island; it provides a central pop of color within a primarily white traditional kitchen — cabinets, backsplash, white countertops and floor.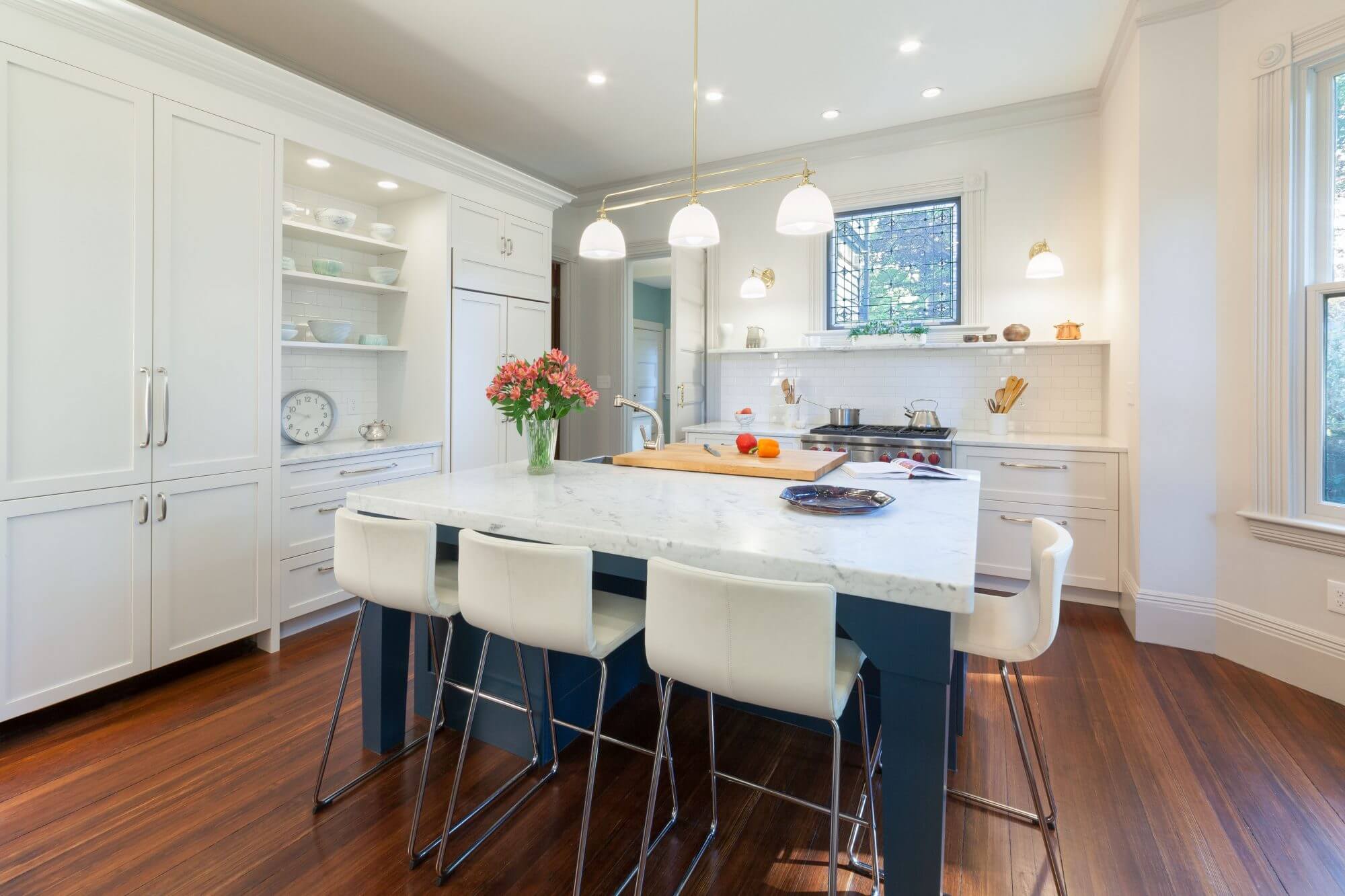 If you are considering a custom kitchen cabinet color scheme, the best finish is achieved when the work is completed within a clean work environment and a cabinet-specific paint is chosen. The Rembrandt Red cabinets were painted on an active job site so we used Zipwalls to create an isolated, commotion-free workspace, plus HEPA level room air filtration to control airborne dust. Five coats of finish paint over a light gray primer was applied by hand.  Each coat was buffed to remove any dust particles captured in the drying paint and to increase the gloss of successive coats.
These Hague Blue cabinets were purchased new and unfinished, and painted both on site and in our Catchlight production facility. We carefully sprayed each base, drawer front and door in a dust-free environment, applying multiple coats of F&B's acrylic Modern Eggshell finish for added strength and durability.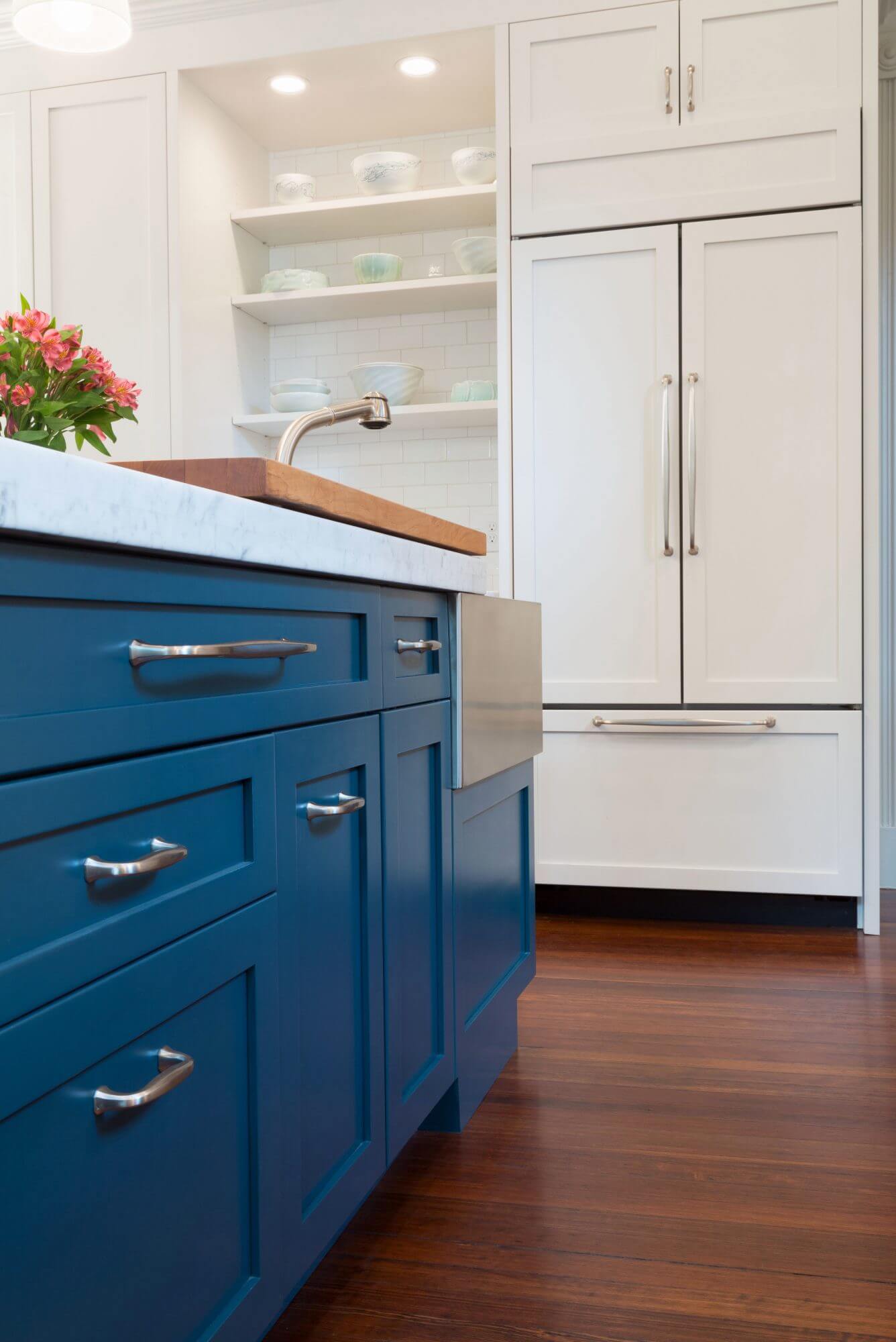 The beauty of painted kitchen cabinets is that the color and finish can be customized to match your vision for the project.  At Catchlight, we prefer cabinet grade paints, specifically designed to weather the wear and tear of normal kitchen use – frequent washing and exposure to steam, water and spills. Benjamin Moore's Advance paint is a favorite, as is Farrow and Ball's Full Gloss and Modern Eggshell paint. Either product, carefully applied over properly prepared surfaces will provide many years of service while pleasing the eye.