This Month's Painter Spotlight is Pete Woods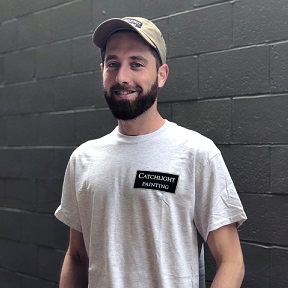 Pete joined the Catchlight family in 2018 and very quickly demonstrated his ability to work well with our customers and crews alike. Soon after, he was promoted to Foreman. His painting experience dates back to 2004 when a friend, working for a small painting company, asked if he was interested in joining the team. At the time, Pete had no experience painting, but he quickly learned on the job and found he really enjoyed the craft.
Pete enjoys working on painting projects from the very small to the very large. His smallest project involved painting one newly installed basement door that led out to the customer's backyard. His largest (and longest) painting job was a beautiful home in Chestnut Hill, clocking close to 1,000 hours. Complicating that project was a glass-paneled sunroom roof requiring the painters to work on a boom lift, along with a number of 6-foot shutters that were removed and brought to our shop to be painted. Each of these projects presented just the kind of challenge he enjoys solving.
Pete grew up in Medfield, the middle brother of three. His parents impressed on all the boys a solid work ethic, and it's that ethos Pete brings to his work every day.
If you ask Pete what he likes most about his role as Foreman, he'll tell you it is the direct contact with the customers. He likes being the person they come to with questions and issues to resolve, and he takes pride in seeing a job all the way through to the end, making sure the customer is happy with his crew's work. Quality craftsmanship is important to Pete. It's gratifying to him when his crew does top-notch work that will last for years to come.
Concern over COVID-19 has led Peter to maintain social distancing while working. Luckily, he and the crew can work outside where the jobs are conducive to keeping a healthy distance. Inside or out, his crew wears PPE and gloves and use personal respirators to keep our customers and each other as safe while COVID-19 is of concern.
On personal note, Pete's favorite quote is one from Yogi Berra: "When you come to a fork in the road, take it." His favorite movie is Rocky, and his favorite bands are The Ramones and Black Sabbath.
We couldn't be more delighted to have Pete on the Catchlight team!