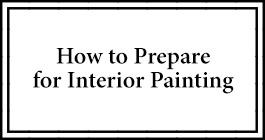 Expert and Professional
We appreciate that homeowners take a leap of faith when hiring an interior painting contractor. In working with Catchlight, you can anticipate clear communications from our office staff, a friendly and efficient crew, a work area kept tidy and clean, and exceptional results involving:
Historic and contemporary homes, including new construction
Bathroom, living room, dining room, bedroom, office, hall and stairway projects
Kitchen projects, including cabinetry refinishing
Thorough surface preparation tailored to the age and specific characteristics of your home
Excellent dust control using HEPA filtered equipment
Skillful treatment of walls, ceilings, trim, wainscoting, moldings and built-ins
Careful paint application by brush, roller and airless sprayer
Wood staining and refinishing
Plaster and drywall repair
Window & sash cord repair, including glass replacement and cleaning
Light carpentry
Large or small scale projects
Considerate and Respectful
We work efficiently in furnished and unfurnished spaces, including homes where artwork, children and pets are present. When hiring we prioritize attitude, skill and ownership. You simply will not find a more courteous or polite paint crew.  Catchlight is an EPA Lead-Safe Certified residential painting company, trained to carefully manage projects where lead paint is a concern.
How Much Will My Interior Painting Project Cost?
Customers frequently call requesting over the phone pricing. Truth is, house painting is custom work, so it's difficult to estimate cost prior to viewing the space and discussing your objectives. Are there significant holes and cracks in need of repair? What is the condition of the ceiling and trim? Are there windows, built-in cabinets, radiators and closets to paint or paint around? Is lead paint a factor? Will the new color be significantly darker or lighter than the existing color? Is your goal to freshen or thoroughly restore the space? Knowing answers to such questions does make a rough estimate possible by phone, but nothing takes the place of meeting with a Catchlight estimator – free of charge.
Catchlight Pricing And Value
Catchlight is not a budget painting company. Our customers tend to be house proud homeowners who value a job well done.  It takes time, skill and experience to produce results that are beautiful, durable, and guaranteed to last.  Because thorough surface preparation is critical to achieving a strong bond between a surface and newly applied finish, Catchlight proposals include a greater amount of time for surface preparation than many of our competitor's proposals.
In addition, Catchlight crew members are legal, drug tested, their backgrounds are checked, and they are full-time professional painters, not part-timers. They earn a living wage that reflects their expertise, skill and professional commitment to our craft. Nearly anyone can paint, but few paint with the level of technical expertise, efficiency and service excellence that our crew exemplify on each and every project.
In short, our interior painting services produce superb results at a fair price. We are happy to work within your budget, we offer a winter discount from late fall through early spring, and we welcome inquiries regarding our work process and hourly rate.
Serving the Greater Boston Metropolitan Area
Catchlight Painting adheres to all OSHA Safety regulations and proudly serves homeowners throughout Newton, Weston, Wellesley, Cambridge, Brookline, and the extended Greater Boston Metropolitan Area.
Catchlight estimates are free, informative and detailed. We will provide you a written proposal carefully describing the work to be done and all costs. Or if you prefer, work can be performed on a time & materials basis.
We invite you to view our Photo Gallery
Catchlight is fully licensed and insured.
All work is warrantied for three years

★★★★★

based on

4

reviews

Overall rating:
Business Is Very Well Run
★★★★★
"
Leon and Kate were wonderful. . . your business is very well run and it was a delight to have your company help us with this project.
"
Above and Beyond
★★★★★
"
Carlos and Marcos went "above and beyond". . . how could you improve your service – are you kidding?
"
True Professionals
★★★★★
"
Brian was able to answer every painting-related question. He is a true professional.
"