Recently, we restored a home nestled on Gloucester's majestic waterfront. This historic estate showcased the beauty of natural cedar wood shingles, but over time, saltwater and weather had faded its original finish. Renewing the exterior was a daunting mission requiring more steps than the typical exterior painting process, but our dedicated crew was up to the task!
In addition to the power washing, window masking, cosmetic repair, and sanding that is part of a typical exterior paint job, our crew had to be mindful of how staining an exterior with cedar wood shingles differs from painting. It starts with cleaning; staining wood shingles requires a more delicate process. Since the radiance of the wood is meant to be center stage, it is of the utmost importance to maintain the wood's original color, and cleaning products can affect that. Our crew tested a few different cleaning formulas on small patches of the exterior to determine which worked best. One solution darkened the wood shingles, but eventually they decided on a mix of bleach and cleaner, and were able to achieve a clean surface without compromising color.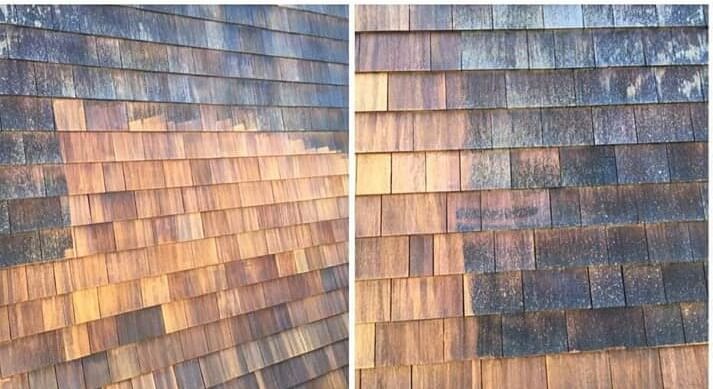 The second step is staining the wood shingles, paying added attention to the uniformity of the finish. When using paint products, the wood is the canvas, meant to be covered.  But when staining, the gorgeous cedar of this house was meant to be on full display. This means that less is more. An extra brush stroke can turn one segment darker than the others, and the visual difference in the number of coats can be more obvious. Additionally, stain does not always penetrate as fully as paint, so in order to maintain a uniform finish, back-brushing and back-rolling can be necessary. Our crew was meticulous in the way they applied the stain, preserving the light vibrance of the cedar wood shingles throughout.
Finally, a clear finish was applied to give the shingles an extra level of protection from the elements without adding more color. As you can see, our crew achieved perfection with this oceanside estate. Nothing brings us more joy than returning a dulled home to its former glory.
Here at Catchlight, we take pride in doing things right and restoring the natural beauty to our clients' homes. Take a look through our exterior portfolio to see more.