There are a multitude of variables that affect paint drying – humidity, temperature, wind, direct sunshine, surface temperature, even paint color.
These variables allow some relaxing of the hard and fast rule of not painting when air temperatures fall below 35 degrees overnight.  Oil-based paints prefer minimum temps of 50 degrees but these days typically the only place we'll be applying solvent based materials is on front doors and decks.
I would caution any homeowner against allowing work on the exterior of their home if the weather conditions conspire to prevent proper drying – high humidity, anticipated rain, fog, saturated ground or cold substrates.
Painting in the fall is ideal – the ground is dry after the summer, materials tend to be warm and the sun still has some strength. However, be prepared for variable weather – our fall this year has been unusually warm and dry – this snowfall came on November 12 but was melted by the afternoon and temperatures moderated the very next day.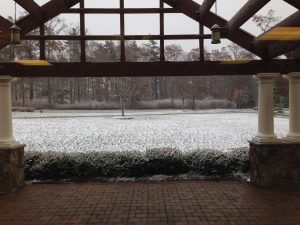 Early spring can be the worst time to paint however – wet ground, a cold house just emerging from winter; weak sunlight and typically inclement weather all conspire to interfere with curing paint films.  The critical drying window where all the chemical components of latex paint, including water, need to properly coalesce to form a paint 'skin' with the right integrity, can be elusive in the spring.
 Wait, didn't color show up as a variable?
 It did indeed; imagine – a deep red or blue pigmented paint – the can is loaded with more pigment solids and proportionately less binder and vehicle (water) – a darker color does require a longer dry time to properly cure. We are more cautious painting with deeper colors the closer we get to threshold temperatures.
As always, we welcome your comments.
If you're a homeowner living in Greater Boston, we invite you to learn more about our painting and restoration services.