If you are embarking on an exterior painting project – whether it is your first home or you are seasoned movers – you are likely seeking exterior paint ideas. "What color do I paint my home?" is often the first question homeowners ask.
Homes in New England come in all shapes and sizes. Some represent the region's long history; some are more contemporary. Regardless of the style of your home, Catchlight can assist you with exterior paint ideas to accentuate its historic significance or provide your home with a modern, energetic twist.
Choosing among the many exterior paint colors available is an important decision. Not only is it a significant financial investment, but it is also a color you will likely live with for several years, a public statement of your personal style; you'll want to properly highlight the beauty of your home, consider the neighborhood in which you live, and decide whether to update to something more contemporary or honor a more traditional New England style.
Exterior Paint Ideas for Traditional Homes
Owners of traditional homes often seek to highlight the historical beauty of not only the architecture but the neighborhood or community in which they live. To do so, opt for earthy neutrals, muted colors, and tasteful accents. Keep in mind architectural details like exposed brick or wooden slats and shingles that are commonly found in New England homes. Creamy whites, muted tones like olive, neutral beiges, and deep, rich blues are amongst some of the most recent exterior paint trends you'll find on historical or Victorian homes.
---
---
Exterior Paint Ideas for Contemporary Homes
For a fresher, more contemporary-looking home, perhaps on a modern farmhouse or a sleek deck house, we are seeing two trends emerge: deep, dark hues and crisp whites. Opting for a dark navy, grey, or even black accentuates your home's modern edge while simultaneously allowing your home to blend well with the lush greenery found throughout New England. Still, nothing quite measures up to the look of a crisp white house; white highlights your home's architecture and provides a blank canvas on which to add pops of color, unique landscaping, or other personal touches to make your house a home.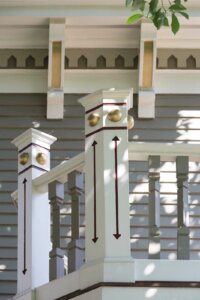 Are you seeking exterior paint ideas for your next project? With over 25 years of experience painting the exteriors of both traditional and contemporary New England homes, we can help you find the right paint, the right color, and the right style to suit you and the home in which you live.
Contact us today to learn more about Catchlight Painting's exterior and interior house painting services.