Homeowners take a calculated risk every time they invite service professionals into their homes to perform work. Will the work be completed as promised? How do I measure quality? There are many ways to mitigate the risks of hiring an unknown team: read online reviews, listen to word-of-mouth, and secure professional recommendations from trustworthy sources. Still, how do you know your project will go as promised?
The house painting industry, like many trades, has within its ranks a wide variety of talent, from complete amateurs to seasoned professionals. But unlike other trades and services, house painters are not required to undergo training or certification like plumbers or electricians. Complicating matters, quality is often difficult to differentiate from poor workmanship until a year later when the paint has begun to fail. So, how can homeowners be confident they have found reference-level painters for their home interior painting project?
In this piece, we will discuss some of the qualifications, measures, strategies, and procedures Catchlight Painting demands of its crews to remain among the top painting contractors in the Greater Boston area. And we'll also cover some of the project preparation efforts that help distinguish us from other regional interior painting contractors.
Start With Sourcing The Right People
As mentioned, there are no licensing requirements nor barriers to entry for would-be painters before showing up on your doorstep. It may be that a company providing handyman services presents itself as a whole-home house painter with little more than ladders, a paintbrush, and rollers as proof. Not so at Catchlight.
While we can't speak for all professional home painting companies, Catchlight takes its hiring process very seriously, always striving to find the most suitable people to join our team.
Some of Catchlight's hiring qualifications include:
Experience in residential home painting

An understanding of Greater Boston architecture, including historic construction

A willingness for ongoing training

A thorough Massachusetts

CORI-check

(

background check

).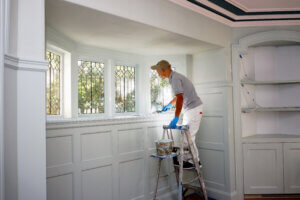 We provide our employees with living wages and benefits beyond those expected from a residential painting company, which is why we source the very best candidates to represent us.
Home Interior Painting – Preparation is Paramount
While we all get caught up in the aesthetic improvement newly painted walls bring to our homes, the quality of any paint job stems from the extent of preparation involved. Repair of cracks and blemishes and proper preparation of surfaces – these are the most labor-intensive part of the work and the most important. It is in the preparation that you see the clear divide between experienced professionals and amateur home painters.
Many of the homes we work in were built before 1978, a time when lead-based paints were commonly used. When we find evidence of lead paint, strict safety protocols must be followed to work with and remove it. Catchlight supervisors are lead-safe trained and certified; all guidelines mandated by the state are followed for the safety of our staff and the home's occupants.
Working with Historic Homes
The architecture found within the Greater Boston area presents many unique opportunities and challenges for house painters, especially when a project involves historic home restoration. No two historic homes in the Boston area are alike, and each will present challenges that are both obvious and under the surface. When working with older homes, our foremen often become "forensic historians," working through the layers of history (and paint layers!) to understand how first to remove decay and make repairs, then restore the surfaces to a condition that is ready for painting.
We meticulously survey the home's existing condition and provide clear project scope and expectations, outlining the measures needed for varying degrees of restoration.
A Calculated Approach
Before we begin any home interior painting project, we are prepared and ready to proceed as efficiently as possible. We have all the right personnel, materials, and equipment on-site to address the project efficiently and effectively, addressing any challenges that may arise.
That's a foundational quality of Catchlight painting that separates us from the rest.
Contact us today to discuss more in-depth details of interior house painting and your next project.