"Every time you tear a leaf off a calendar, you present a new place for new ideas." So said American inventor Charles Kettering. As we turn our own calendars to 2023, many of us are filled with that same kind of inspiration and optimism. As interior painting contractors, we see evidence of that in homeowners who come to us ready to change their surroundings with fresh home interior paint ideas. At this time of year, they are often inspired by Pantone and Benjamin Moore's highly anticipated choices for Color of the Year. This year did not disappoint; it is all about brilliant color.
Pantone announced Viva Magenta as its Color of the Year 2023. It's a vibrant choice inspired by the natural red dye extracted from cochineal insects. According to Pantone, "The story behind Viva Magenta is all about the balance between our digital and physical lives. In recent years, we have acquired a greater pull toward the natural world, and the Pantone Color of the Year 2023 is chosen to reflect our pull toward natural colors and the movement surrounding climate change, sustainability, and land protection." If you are looking for home interior paint ideas, it's a spectacular choice, working beautifully as an accent color or, if you're feeling bold, applied to kitchen cabinets.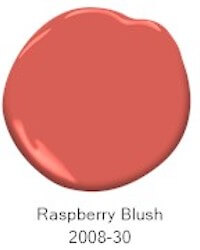 Benjamin Moore has chosen a similarly nature-inspired vibrant color for 2023, Raspberry Blush. According to their website, the color inspires joie de vivre: "a vivacious shade of coral tinged with pink, Raspberry Blush enlivens the senses with an electric optimism." Raspberry Blush, along with other palette choices for the year, encourage the untraditional. Conch Shell, Cinnamon, Wenge, Savannah Green, and New Age; each one of these colors invites the homeowner looking for home interior paint ideas to move beyond neutrals to a color that makes a statement.
Are you still looking for home interior paint ideas that are a little unconventional? In 2022, masters of color Farrow and Ball, announced eleven new paint colors, their first additions in four years. And yes, you guessed it, the majority are rich tones like Bamboozle, Whirlybird, and Wine Dark.
These warm, playful, vibrant tones say much about what we can expect for 2023. They are about stepping out of your comfort zone into something bolder and more dynamic. If what they portend is true, this year is sure to be something out of the ordinary!
Are you a homeowner looking for home interior paint ideas? Contact us at Catchlight. Whether inspired by these bold choices or preferring more muted tones, our interior painting services include helping you find the right shade for your home.