During the Cold War (the old one not this new one!) the term 'trust but verify' informed negotiators on both sides; take your opponents' words at face value but confirm their follow-through via visual inspection. The same is true when hiring residential painters.
At Catchlight, we believe that each and every job applicant likely has a history of hard work, integrity and honesty. Still, as a matter of course, we review work history, confirm dates of employment and ask each applicant to sign a background check release once we have made them a job offer, conditional of course, on their ability to pass the check with flying colors.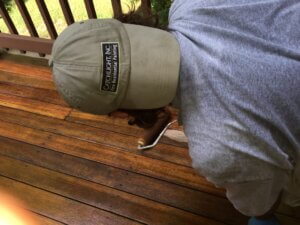 Here in Massachusetts, we use the CORI check as it is the most effective and efficient way to confirm bona fides.
A name-based criminal record check (CORI) returns information on available Massachusetts arraignments. This type of criminal record check is done by submitting the name and date of birth for a person. That information is then searched against Massachusetts court records to determine if there is a possible record for that person. This type of criminal record check contains only Massachusetts information and is not fingerprint supported
All employers were given standard access to records that reveal pending criminal charges, together with recent misdemeanors and felony convictions.
In our history of using the Massachusetts CORI check, it is alarming to note the number of applicants who verbally assure us of their backgrounds, only to have their CORI results reveal otherwise. Typically results will reveal minor infractions but of sufficient concern that we disqualify the applicant from consideration – for example, larceny, possession of burglary tools – these are red flags even if the convictions are older. Scarier examples abound; in 2021 an applicant with a long history working in the painting industry around Boston had a homicide on his 'sheet'.
Even misdemeanors will disqualify an applicant from employment with Catchlight; the most common misdemeanor crimes include:
Assault

Disorderly conduct

Domestic assault

Failure to appear

Hit and run

Indecent exposure
I'm a firm believer in giving second chances to past offenders, however, as the owner of a residential painting company, I recognize that there can be no wiggle room nor uncertainty about the caliber of the individuals we invite into our customers' homes and lives. Rest assured, every Catchlight painter, carpenter, and handyman rings your doorbell having been carefully selected and hired – for your peace of mind, and ours!
Learn more about our team at Catchlight.
Looking to start a residential painting project? Please be in touch!