Similar to the old idiom, "how long is a piece of string?" The answer is; that it depends. But, I'll go out on a limb here and suggest $1000 per room is a good starting place. How much it costs to paint a house interior is subject to several variables, from the obvious to the aesthetic, starting with:
What is the scope of work?
The cost to paint a house interior will be determined by the amount of time and materials needed to complete the project.
How many rooms are there?

Bedrooms, common rooms, bathrooms, kitchens, closets, stairways, hallways, dressing rooms – don't forget the foyer!

Are all room surfaces to be painted – walls, ceilings, trim including doors, windows, closets?

Walls are the easiest to paint, ceilings next and trim the most labor-intensive

Are colors changing, or how many coats are required on each surface?
All are all surfaces in paintable condition, i.e., zero preparation is required

no hole patching

no caulking of seams or joints, etc.

trim does not need to be sanded

kitchen and bathroom surfaces should be cleaned before painting – don't skip this step!

Are the rooms empty of furnishings?

Moving and protecting furniture takes time, especially if done respectfully, ensuring zero drips, spatter, and dust contaminating furnishings and flooring.

Are you painting to sell, or is this your dream home?

If you are selling and painting because your realtor suggested it, you will likely wish to spend the bare minimum.

If this is your dream home, we expect you will want a higher-quality job with more attention to detail, which requires more time.
The answers to these questions clarify the scope of work, which is how a good estimator arrives at a price for interior painting. Some companies offer an online calculator tool (ANGI, Paintzen) to 'guesstimate' pricing. While a decent starting point and effective if your home has a straightforward floorplan and the scope of work is simple, there is a significant advantage to in-home estimates to ensure the painter knows what they are expected to provide you.
How Much Does It Cost to Paint a House Interior? The Bid Rate
Once the scope of work is clear and expectations communicated (here, we suggest the savvy homeowner have a printed scope available for all painters to ensure all bids are consistent), then the price difference between bids will depend largely on the painter's bid rate. The bid rate reflects the painter's cost of doing business – a sole proprietor working alone and from the back of a van or truck has minimal overhead and will likely provide the lowest bid. A painter with more experience and trained employees will have overhead costs – rent, workers' compensation, and liability insurance – factors that will increase the bid rate.
Budgeting
Back to the original question… how much does it cost to paint a house interior? While it's safe to assume that spending $1000 per room is a fair price, the scope of work may vary from one room to the next and not in ways that are obvious to most homeowners. You might think a bathroom, being smaller, should be cheaper than a bedroom. Not so. A professional painter will reference the need to properly clean all paintable bathroom surfaces to remove soap film and steam condensates, a time-consuming step not needed for the typical bedroom. Even a small stairway usually involves trickier ladder movements to reach awkward areas; this may also increase the cost.
---
Successful Historic Home Restoration Takes Patience and Dedication to Craft – Click to Learn About Our Services!
---
How Much Does It Cost to Paint a House Interior? Final Thoughts
While interior house painting is not rocket science, it does require technical competence. We encourage our customers to check references and read reviews online thoroughly. Ask for proof of insurance (proof of an active policy must come directly from the insurance company), both liability and worker's compensation if the painter has employees. It's not unreasonable to ask if the painting company conducts background checks before hiring, along with drug tests – you are inviting strangers into your home who will be left unattended for hours, often days.
---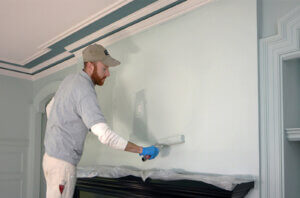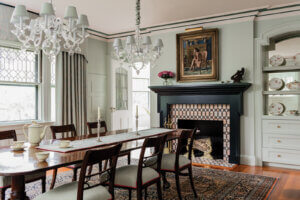 ---
At Catchlight, our project estimates are likely higher than you will find from a lone painter with a van, but what you get in the end is extraordinary value. We stand by our estimates – there are no surprises – and our fully vetted painters are licensed, professionally trained, fully insured, and provide an unmatched level of service. Their work is extraordinary, and we guarantee it!
How much does it cost to paint your house interior? Contact us today to have one of our estimators visit your home