When it comes to painting mahogany, there is no 'normal' color.
We stripped a virtually opaque mahogany exterior stain on a clear coated roof deck in Boston's Back Bay earlier this summer; since the deck was built over an EPDM membrane we couldn't use any acid washes or caustic strippers to remove the existing finish as these are corrosive in nature and so risk damaging the EPDM.  We instead used Festool sanders attached to HEPA dust extractors, patiently sanding off layers with ever finer abrasive materials to leave a swirl free finish.
Once the wood was stripped, we understood why the previous mahogany paint application was so heavy handed; the developer had been a little too casual when choosing planks, as shown below, and had covered up the mahogany with a dark brown semi-solid stain.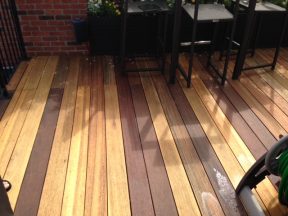 There are 8 different types of mahogany, each originating from a different continent or island; the species in question is very likely a Philippine Meranti which comes in dark and light red, yellow and white variations, hence the significant range in color.
We applied Seal Once, a waterproofer then followed up with Benjamin Moore's Arborcoat alkyd translucent finish. The variation in color will lessen with age and UV damage but we expect this treatment to last many years.
By comparison, this Newton deck we stripped and finished the same way; the results different only because of color uniformity.  This is the second time we've restored this deck; as is typical 90% of the deck is flawless after 10 years with the weathering limited to the exposed edges and traffic lane to the front door.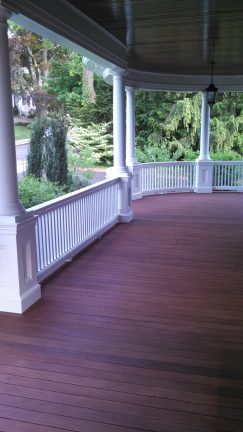 If you're a homeowner living in Greater Boston, we invite you to learn more about our residential painting services.