I've been working through a trenchant biography of Winston Churchill for some months now, The Last Lion, and continue to be impressed by his fortitude and perseverance during the harrowing experience of the London blitz of WWII. Recently I heard a quote that was attributed to him "we make a living by what we get; we make a life by what we give". Pithy, memorable, brief, and resonant. But stylistically it doesn't gel with his oratorical flourishes – a quick online search discounts this attribution but offers the following Churchillian pronouncement;
"What is the use of living, if it be not to strive for noble causes and to make this muddled world a better place for those who will live in it after we are gone? How else can we put ourselves in harmonious relation with the great verities and consolations of the infinite and the eternal? And I avow my faith that we are marching towards better days. Humanity will not be cast down. We are going on swinging bravely forward along the grand high road and already behind the distant mountains is the promise of the sun."
This is more this style!
But what is the point of this blog, you ask? Isn't Catchlight a painting company?
We are indeed, but we are human beings first, and nobility is our aspiration! We count ourselves fortunate to live where and how we do, working for our lovely customers in this bustling, innovative and remarkable area.
Each year we find opportunities to give back to our community and after starting with our first charity project at the Bethany House in Boston last January, we concluded 2015 by donating hundreds of hours to two organizations that provide shelter to the homeless and to families escaping domestic violence. The tight confines of these shelters did not provide great photographic illustration so we'll settle for the group shot below;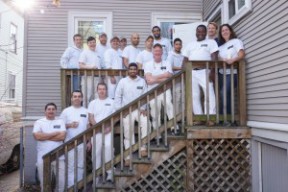 Kudos and appreciation to the fine people at Heading Home Inc., who work tirelessly to find housing for the homeless and in the meantime provide them with room and board at discrete properties located all over greater Boston. And our thanks to Greg Hadden of Benjamin Moore and Josh Johnson of Johnson Paint for donating the large amount of materials needed!
In 2016 we are choosing to focus our giving on The Second Step here in Newton.
They are a Newton-based and founded charity providing long term shelter to families escaping domestic violence. We kicked off our giving before Xmas with over 110 hours of painting labor and look forward to helping them refresh their shelters throughout the rest of the year. Our thanks to Sherwin Williams for donating all paint and materials!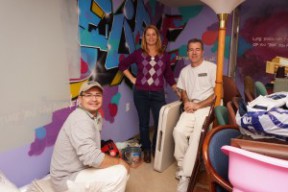 We hope our efforts go some way to brightening the the prospects of the Second Step families.