As a local Newton business and community partner, we are excited to feature and support other local businesses, individuals and organizations that we find exceptional. For this month's showcase, we are pleased to introduce Christie Dustman.
Meet Christie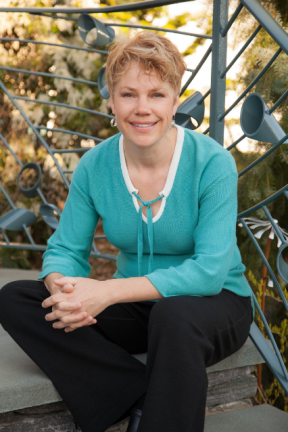 Christie Dustman is a lifelong gardener whose love of plants, people and outdoor spaces impacts everything her green thumbs touch. The artistry and expertise Christie brings to garden design, installation and maintenance is truly extraordinary. Yet what truly sets Christie's work apart is her ability to design garden areas that are uniquely responsive to her client's taste and the specific characteristics of their space. Her award winning work has earned national recognition, been featured in published articles and proudly included in local area garden tours.
Tell us a little bit about yourself? When did you develop a passion for gardening? How did you get your start?
I grew up on 6 acres of land near the Erie Canal in upstate NY. Both of my parents were raised in Western NY farm country; Our family garden had vegetables, fruit and an orchard. As a kid, I was roped into helping with the garden, particularly picking veggies and raspberries. I really disliked the bug aspect of gardening and got eaten alive by mosquitoes. My parents enjoyed seeing how people work the land so often took us to see historic houses and botanical gardens. I grew up visiting cultivated outdoor spaces rather than beaches or big state parks.
Seeing historic homes and gardens taught me the impact people can have on the way outdoor spaces appear and function. In addition, my dad had a particular fascination with tools and how things get done, so I was also exposed to the elegant and intentional execution of ideas – for example in house building and in the Shaker vision of furniture design – simple yet elegant and functional.
I didn't get back on the plant track until I moved to Somerville, MA in my early 20's. My parents planned a visit and suddenly, out of nowhere, I panicked because my neighborhood lacked anything green – NO gardens. Now, why did that realization spark a reaction? I don't know. But I started to plant a garden where I lived and, as I did, all that I'd been exposed to as a kid came rushing back. I started remembering plants and gardening activities from the point of view of wanting to do these activities myself. At age 27, I bought my first house so I could begin transforming my own outdoor garden space.
I designed this first home garden with intention and thoughtful elegance. I experimented in creating outdoor rooms, and with different types of plants. I also began taking classes at the Arnold Arboretum and in 1997 I attended my first national meeting of the American Conifer Society in Chicago, IL. My parents attended the conference as well and we met a whole new crowd of people there – people who were passionate about plants, particularly conifers. It was at this conference while visiting botanical gardens (again!) that I had a brainstorm: why not change my avocation into my vocation? Was this possible?
That year I entered a Landscape Design Certificate program at Harvard, and in the spring of 1998, I began working with my very first clients. Thus my business was born and quickly fueled by my own deeply rooted passion and early success. Nearly 20 years in, I continue to live and breathe plants. I still think about how to "get things done" in an elegant and functional way, and I have developed a resonance with plants much like I feel for other living creatures. I feel for and about plants and aim to give them and their "people" a good life.
People may be under the impression that landscape design services are prohibitively expensive. What can you share about the costs associated with the work you do?
We start with a consultations or brainstorming session – what we call a Design Assessment meeting. This is an on-site meeting  to consider what is there now, what can stay, what should change, what problems need to be solved and goals. We charge $165 for this initial session. Depending on the scale of the project, design assessment and planning can take a couple of hours to several dozen. Both result in a written proposal.
Our business model is to be fully present during this initial meeting and to freely explore and call out whatever ideas arise. Our client gets an opportunity to see how we listen, think and  problem-solve as so much of garden design actually involves problem solving, with beauty on top. This first meeting typically focuses on the distinct challenges that every project and client face. Even clients who don't choose to proceed find that they have gained much greater clarity and direction in thinking about their outdoor space.  Our clients feel heard, and most get genuinely excited as we explore possibilities together.
Design plans for garden spaces, like architectural plans for indoor spaces, evolve. Ultimately project cost is dependent on project scope. We bill $125/hour for our design and consultation work. Once a comprehensive plan has been reached, accurate installation pricing follows. Of course we prioritize working within each client's budget.
What I can say about planning expenditures is that I have never heard a client lament "this is too well planned". On the flip side, I have seen many projects that weren't well planned initially or didn't function as desired so require retrofitting at additional expense. Like the adage – "A stitch in time saves nine".
What type/amount of space is needed to create a satisfying garden?
There is no minimum size for a satisfying outdoor space. I don't think of it this way as a space is what it is – generally defined by property lines. Our creative work happens inside this "box" with the same fundamental design considerations applied to spaces both large and small. For a very small space, the goal may be to feel refreshed by the view into it. It could be that a space is just large enough for one chair or bistro table. I enjoy designing tiny patio spaces able to accommodate just a few planters as well as large scale landscapes. View more of Christie's work here.
All spaces must be considered with what is practical and possible in mind so that each space feels effortless rather than forced. Large spaces bring distinct challenges, for example, how to make them cozy and comfortable while keeping their expansive feel. For any size garden, there is the possibly of "borrowing" views and a sense of space from adjacent areas – seeing into the neighboring yard with big trees, or further off into the distance. A good design makes sure to take all parts of the workable space as well as its broader context into consideration.
Contact Christie
Christie Dustman & Company, Inc.
8 A Street
Hyde Park, MA 02136
(617) 327-0330
Email: info@christiedustman.com
Website: https://www.christiedustman.com/contact/