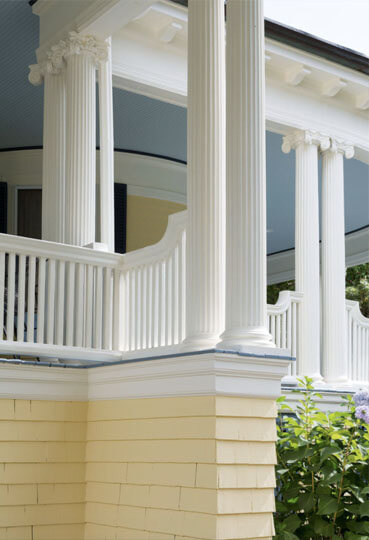 It is the dog days of summer when most of us who live in the Boston area relish the warmth and sunshine, and the longer days stretching into the evening. We spend more time out in the fresh air and particularly during COVID times, more time outdoors at home. Our porches and patios have become the center of socially distanced neighborly greetings and the perfect setting to entertain friends.
Not so long ago, the term porch conjured images of a wide outdoor platform that led to the front or back door of a home. Maybe it was covered, maybe more open; maybe it was a wrap-around, maybe more contained. It might be a place to gather and welcome neighbors or simply provide protection from inclement weather.  Today, as architectural terms have shifted, the once-simple porch has transformed into a veranda or loggia, a portico, or lanai.
Confusing, isn't it? Let's pour ourselves some lemonade and demystify some of the differences between three "porch" terms common to New England; porches, porticos, and patios.
Porches
A porch is defined as a covered outdoor structure that is attached to the exterior walls of a home or building. Porches are covered from the open air and are often supported with columns, railings, walls, or screens.  They may be confined to the front of a home, visually designating the point of entry, or can wrap around the house. They provide protection and a place for homeowners to gather outside.
From the Portuguese word for porch, a veranda has a roof covering and railings, and often extends or wraps around a house. A loggia, while sounding more upmarket, is the Italian word for porch, a covered outdoor space attached to the exterior.
Porticos
A portico (Italian for small porch) leads to a home's entrance or can be a walkway around a home, always covered by a roof, and marked by multiple columns. Influenced by Greek architecture, today's porticos can range from contemporary to Victorian. Porticos will sometimes be constructed with walls and often have pediments, or triangular architectural feature centered at the top.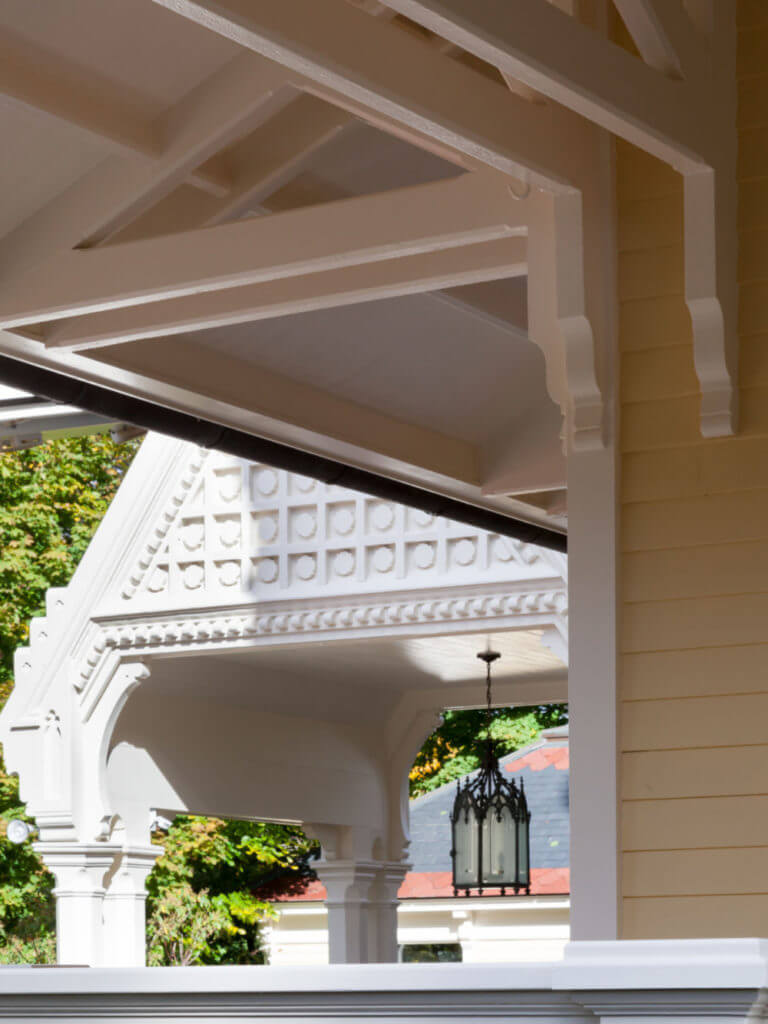 Common in ancient Greek architecture, some of the world's most famous porticos include the Pantheon in Rome, the Acropolis in Athens, and the US Supreme Court building in Washington, DC. Porticos are part of the defining architecture of the city of Bologna.
Patios
Patios are outdoor landscape elements, usually uncovered and not necessarily attached to the home. More often than not, they are located in the back of the house and are paved with poured concrete, paving stones, brick, natural stone, gravel or tile.
Patios were once confined to an area directly near a home's back door for easy access to and from the kitchen. Today's patios serve multiple purposes, from defining a specific area of a garden to providing multiple seating options to housing an outdoor kitchen.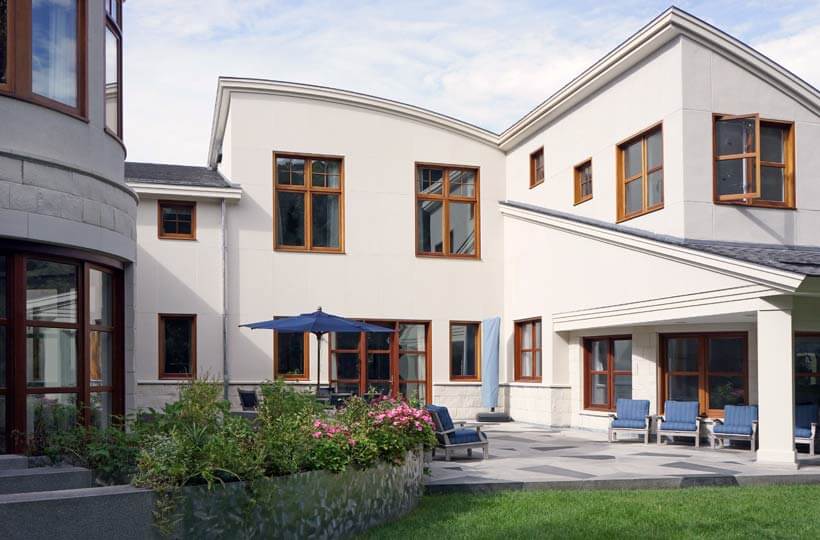 At Catchlight, we have had the privilege of painting a variety of outdoor porches, some very grand in scale while others were more modest.  The historic homes we paint often adorned with the architectural balustrades, scrollwork, and pediments described here.  Proper application of the right paint color both enhances these unique details and honors the home's historic beauty. If you have a porch or portico, or for that matter, a veranda or lanai, that needs our painting services, please be in touch.